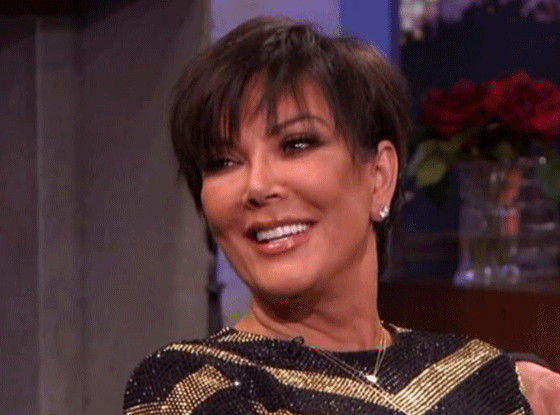 ABC
Could we possibly see a Kardashian or Jenner on The Bachelor one day?
Kris Jenner was a special guest tonight on Bachelor Live, hosted by Chris Harrison, along with former Bachelor Chris Soules and current Bachelor Ben Higgins, and the famous momager got asked a question that we all wanted to know the answer to: Which one of your children, if they were single, would most likely go on the show to find love? 
Granted, most of her kids already have a significant other, but there was one child that came to mind when asked the question.
"I don't know. I would say, like, one of the younger ones, but Kendall [Jenner] wouldn't go for it. I don't know. I could talk them into it, though," she responded. Let's do it, Kris. Let's get this into production!
Kris also slammed rumors (again) that she ever hooked up with former Bachelor Ben Flajnik, telling the caller, "Oh, my god. We are very good friends. So no."
As for which contestant she connects with the most, Jenner shared that she has a special spot in her heart for Amanda, the mother of two from Rancho Santa Margarita, Calif. "I think she's definitely included her kids, which is really sweet and he's embraced that, which I think is awesome," Kris said, and added, "Listen, I was single once with four kids. I can relate to her 150 percent and you just think, who is going to want...talk about feeling unlovable."
Aw, Kris!
There was another Bachelor super-fan on the live show tonight—Kaley Cuoco!
The actress, who shared on Instagram last week that she unsuccessfully attempted to ask a question but failed because of the time difference (oops!), was able to chat with Ben and the crew via Skype.
"I didn't put those two together, as you can see. But the video was funny. We tried to get in. I was like, I have to call. And realized later, after I stupidly posted it, that it was east coast time. But we're here now," she said, and when it came time to finally ask a question, she couldn't!
"I've never been speechless. I don't know what to say. Let me first say, we've all discussed, we're obviously huge fans of the show. We watched, I think, from the beginning. Ben, you are the sweetest Bachelor ever!"
She did come up with one question, however. "Are you in love," she asked Ben, and whaddya know? They couldn't answer the question.
(But we're guessing that means yes!)