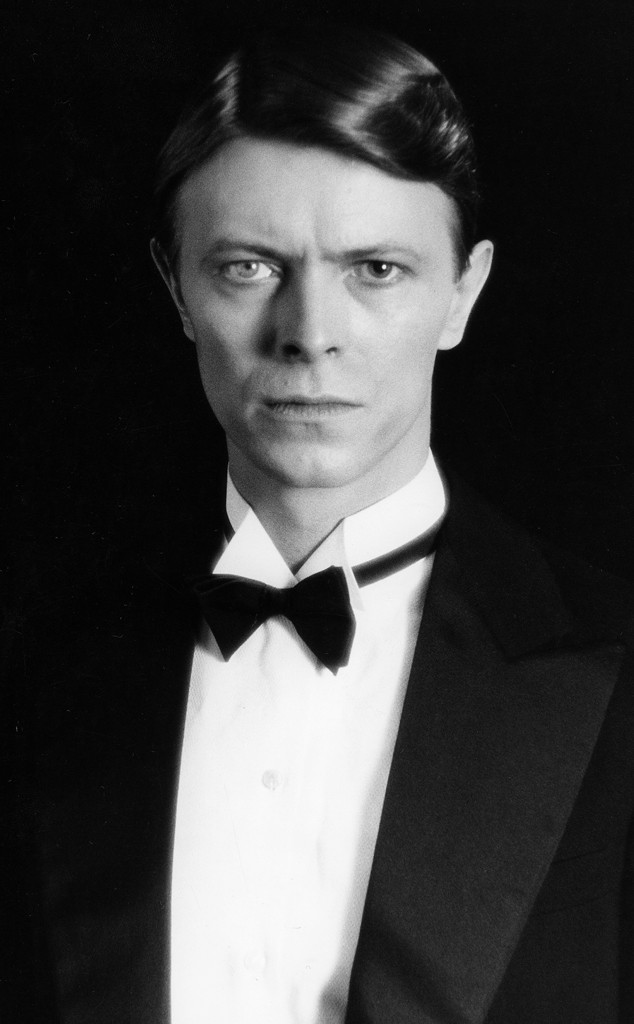 ullstein bild/ullstein bild via Getty Images
Stars are mourning the death of music icon David Bowie.
The "Space Oddity" singer died at age 69 Sunday following an 18-month battle with cancer. Bowie was one of the music influential artists of the past 50 years, known for making hits like "Changes," "Moonage Daydream," "Heroes," "Young Americans," "Ziggy Stardust," "Rebel, Rebel," "Five Years," "Modern Love" and "The Man Who Sold the World." The two-time Grammy winner released what would ultimately become his final album, Blackstar, on his 69th birthday Friday.
Bowie is survived by two children, Duncan Jones and Alexandria "Lexi" Zahra Jones, as well as his wife Iman, whom he had been married to since Apr. 24, 1992.
The British musician's death was announced via his official Facebook page late Sunday night. "January 10 2016 - David Bowie died peacefully today surrounded by his family after a courageous 18 month battle with cancer," an official statement informed his 6.23 million followers. "While many of you will share in this loss, we ask that you respect the family's privacy during their time of grief."
News of Bowie's death made waves throughout Hollywood, and musicians like Iggy Pop, Gene Simmons, Kanye West and Pharrell Williams took to social media to mourn the music legend. Other celebrities who had been touched by his music, including retired soccer player David Beckham, British Prime Minister David Cameron and Golden Globe winner Kate Hudson, expressed their grief as well.
"Very sad news to wake up to on this raining morning. David was a great star and I treasure the moments we had together. His music played a very strong part in British musical history and I'm proud to think of the huge influence he has had on people all around the world," The Beatles' Paul McCartney wrote on his website Monday. "I send my deepest sympathies to his family and will always remember the great laughs we had through the years. His star will shine in the sky forever." Meanwhile, Yoko Ono, love of the late John Lennon, issued a statement via Facebook Monday. "John and David respected each other. They were well matched in intellect and talent. As John and I had very few friends we felt David was as close as family. After John died, David was always there for [my son] Sean and me. When Sean was at boarding school in Switzerland, David would pick him up and take him on trips to museums and let Sean hang out at his recording studio in Geneva," she wrote. "For Sean this is losing another father figure. It will be hard for him, I know. But we have some sweet memories which will stay with us forever."
Meanwhile, rocker Billy Corgan said, "When a true star blinks out, the sky looks different, and never feels the same."
In a statement published via their band's website, members of The Rolling Stones said they "are shocked and deeply saddened to hear of the death of our dear friend David Bowie. As well as being a wonderful and kind man, he was an extraordinary artist, and a true original." In a separate statement, frontman Mick Jagger added, "David was always an inspiration to me and a true original. He was wonderfully shameless in his work we had so many good times together. He was my friend. I will never forget him."
Columbia Records also released a statement to E! News, saying, "We are deeply saddened by the loss of David Bowie. It was an honor and a privilege to release his music to the world." The Recording Academy also issued a statement Monday, saying, "David Bowie was truly a Renaissance man and visionary artist with extraordinary talent as a singer, songwriter, performer, actor and producer, and was a musical hero to millions. A Grammy Award Winner and a Lifetime Achievement Award recipient, he is remembered and celebrated today for his audacious approach to pushing creative boundaries and ability to reinvent himself time and time again, changing the course of pop music in the process. David was a true original who influenced so many and his art will live on forever. We offer our sincere condolences to his family, friends, creative collaborators and to all of David's fans across the globe."