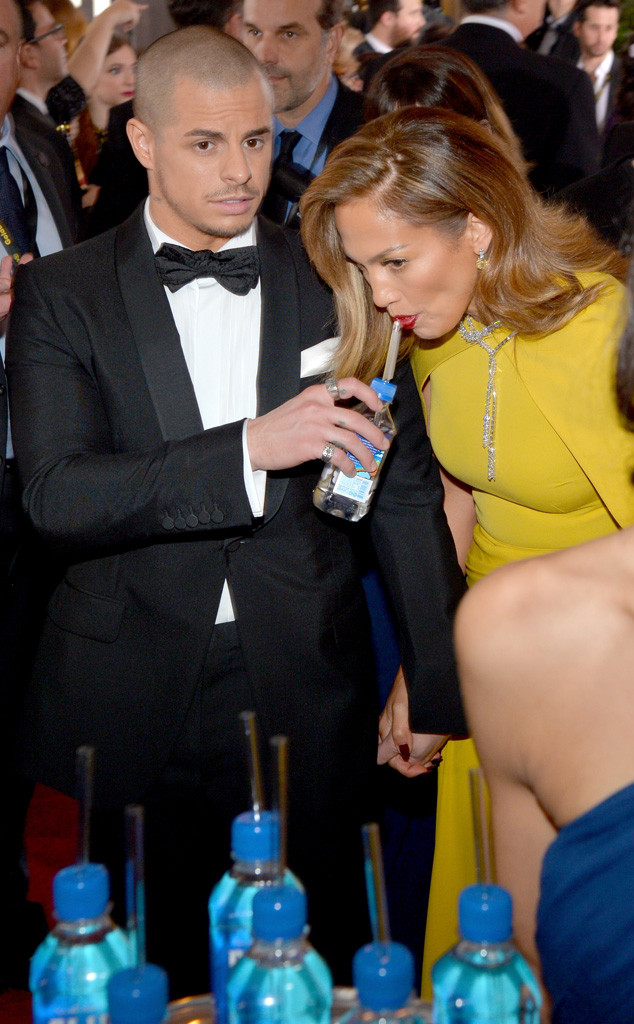 Charley Gallay/Getty Images for FIJI Water
At tonight's Golden Globe awards, there were winners and there were losers. There were celebs who took home awards and celebs who were robbed. 
But at the end of the day, there was one thing that far and away stole the entire evening: The water station. That's right, good ol' H2O. It was this delicious liquid that truly saved the day, because amongst endless bottles of champagne, only water can keep celebrities from succumbing to the elements.
It seems that all hottest A-listers stopped by the water station for a refreshing sip. It all started with this beautiful moment between Jennifer Lopez and boyfriend-slash-beverage-mule Casper Smart.
As you'll see, Miss J. Lo has experienced no greater joy than this sip of water, not least because she doesn't even have to lift but a perfectly-manicured finger to do so. One may think that she is in such ecstasy simply because of her (significantly less-enthused) partner, but it seems that nobody was immune from water-induced glee. See Gerard Butler making sweet, sweet love to his straw. 
Charley Gallay/Getty Images for FIJI Water
And here is Good Wife star Alan Cumming, showing off his enviable one-two punch of Moët bottle and half-liter. He's so proud to be holding a bottle of water that he couldn't pose without it. 
Charley Gallay/Getty Images for FIJI Water
And who could forget Steve and Nancy Carell, sharing a marital sip in between red carpet interviews. What's the secret to a long and happy marriage you ask? Why, it's proper hydration!
Charley Gallay/Getty Images for FIJI Water
And last but not least, we have Andy Samberg, who was clearly having such an intimate moment with his beverage that he was caught completely off-guard by the presence of a photographer. Let it be hereby known that no man or woman shall come between Andy Samberg and his bottle of water!
Charley Gallay/Getty Images for FIJI Water
Stay tuned for more on what the night's biggest star (remember: water) got into at all the after parties. 
Related:
2016 Golden Globe Awards Fashion Round-Up