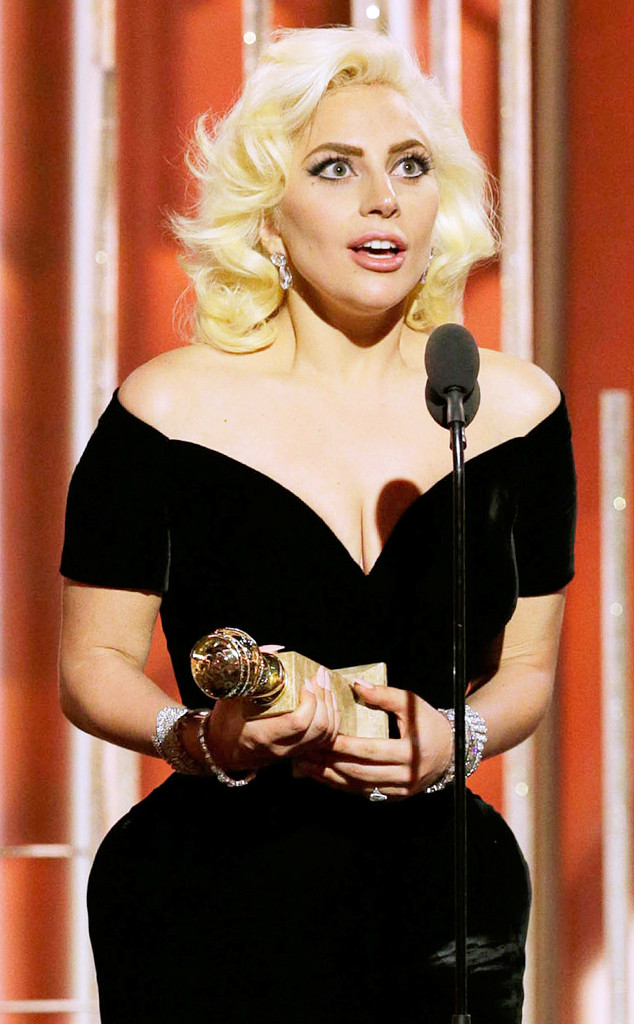 Paul Drinkwater/NBCUniversal via Getty Images
UPDATE: Gaga took to her Instagram and made sure to give a shout-out to her beau Taylor Kinney. Posing with her new trophy, she wrote, "I am so grateful to the Hollywood Foreign Press. Thank you Taylor for being right there for me the whole way through. Monsters, never lose hope in yourself. This is for my brilliant manager @wanaynay Staying in the fight is the true test. Never give up on your dreams."
_________________________________________________________
Lady Gaga is officially an award-winning actress!
The singer just snagged herself a Golden Globe for Best Actress in a Limited TV Series for her amazing work on Ryan Murphy's American Horror Story: Hotel.
Looking absolutely stunning in a black gown with her blond tresses in a soft curl, the emotional star made her way up to the stage to accept her first statue.
"I feel like Cher in the John Patrick Shanley movie Moonstruck right now," Gaga began, holding back the tears. "It is a great moment. I have to thank Ryan Murphy. You are just a wonderful human being. And you have believed in me so much and been such a good friend to me. Thank you to my wonderful cast. I love you guys so much. You're my family forever."
She continued to thank more of her cast mates, including Matt Bomer, Angela Bassett and Clive Peters. "I could go through the entire cast. You are all so talented. Because of you, I was able to shine, I guess. So, thank you for sharing your talent with me. I wanted to be an actress before I wanted to be a singer. But music worked out first."
Mother Monster then gave thanks to "my family, my mother, my father, my sister, Natalie, I love you so much, I have to thank my team. You guys pick me up every single day and the things I put my body through and my mind through when I'm working, it makes me like a child. I can't even do things on my own. And you allow that. And you take care of me and you help me to explore my creativity in ways that I never thought I could...I'm truly speechless. I truly am truly speechless. Thank you so much."
Gaga noticeably forgot to thank her soon-to-be hubby Taylor Kinney, but we'll just chalk that up to nerves, because it happens.
Congratulations!