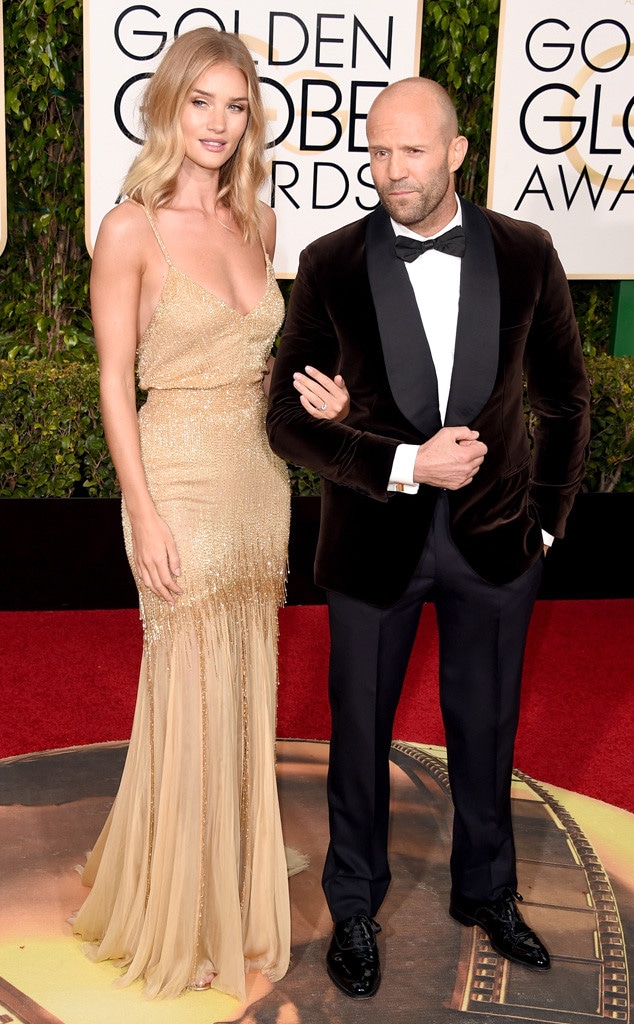 Jason Merritt/Getty Images
Rosie Huntington-Whiteley and Jason Statham are engaged!
After dating for over five years, the 28-year-old actress and the 48-year-old actor are set to tie the knot, their reps confirm to E! News exclusively.
The Brit beauty debuted her gorgeous engagement ring on the red carpet today at the 2016 Golden Globe Awards in Beverly Hills. Huntington-Whitely paired her sparkler with a gorgeous gold gown that showed off her cleavage. The husband and wife to-be were all smiles as they walked the red carpet together and posed for photos.
Meanwhile, Statham looked hunky as usual in a formal black and white suit.
The exciting engagement news come after the couple recently enjoyed a romantic vacation together in Phuket, Thailand. The duo was spotted hitting the beach and soaking up the sun last week.
While Huntington-Whiteley and Statham are usually pretty tight-lipped about their romance, the hunky actor did joke about their at-home life to Esquire last year saying, "We get drunk and float around the swimming pool." Sounds like a good time to us!
Watch:
Rosie Huntington-Whiteley Is Pregnant in "Mad Max"
Around the same time, Huntington-Whiteley joked about her man's good looks. "People go crazy for Jason," she said. "It can become a frenzy walking down the street with him."
As for having kids, Huntington-Whiteley revealed back in April 2015, "Having a family is something I think about for sure, and whether I'd live here in America or in England. But it's not always as simple as that...I have no idea what will happen, but it'll be interesting to find out, right? And nothing will be perfect, I'm sure."