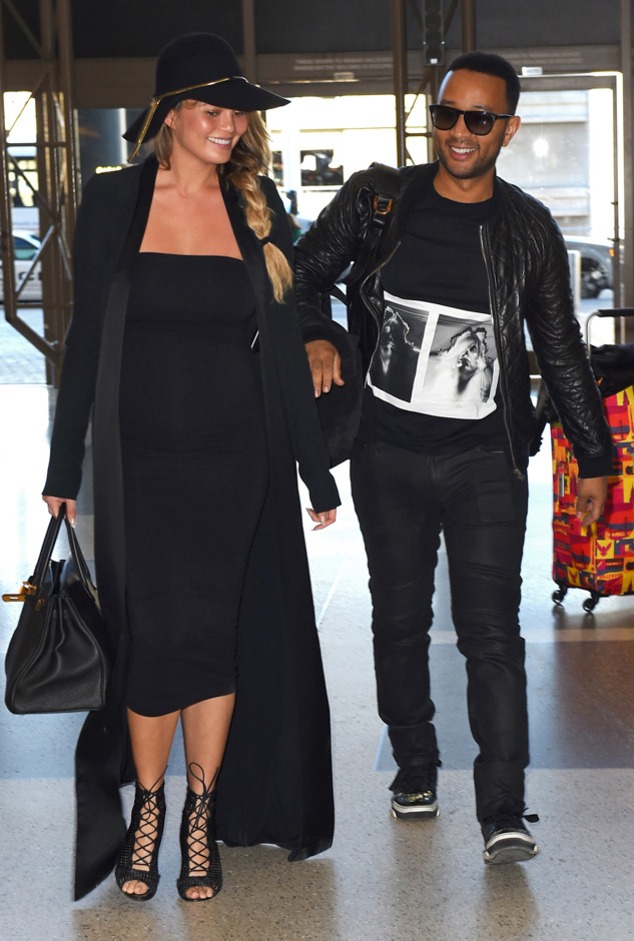 AKM-GSI
John Legend and Chrissy Teigen can't wait to meet their little one in the coming months and the singer is opening up to E! News about everything from his wife's pregnancy cravings to what names the two have decided on.
It turns out that Chrissy has been having a major hankering for Hooters wings lately, and Legend joked, "She ordered Postmates, she didn't even go to the restaurant!"
Hey, when cravings call, right?
Legend also dished to E!'s Kristin Dos Santos about what type of father he would be hope to be if he has a baby girl.
Watch:
Have John Legend & Chrissy Teigen Picked a Baby Name?
"I don't think the idea that girls have to protected from men and that girls can't have their own sexual identity and freedom. I don't like that idea so I don't even want to think like that," he explained.
"The idea that if it's a girl, then we gotta put her in a cage, I don't believe in that."
Ultimately, the crooner says, "you just want your kids to grow up with good values and respect themselves whether they're a boy or a girl…they'll probably make mistakes and hopefully they'll learn from them."
And as for monikers for the couple's firstborn? Well, they haven't exactly decided upon something permanent just yet.
"We have a new name every day…we fall in love with it and then two days later we're like no. They say sometimes you have to see the baby before you're really sure."
Chrissy and John announced their pregnancy in October, taking to Instagram to share a sweet black and white photo of the singer with his hands on his wife's soon-to-be bump.
"John and I are so happy to announce that we are pregnant :) As many of you know, we've been trying to have a baby for a while now. It hasn't been easy, but we kept trying because we can't wait to bring our first child into the world and grow our family," she wrote alongside the photo. "We're so excited that it's finally happening. Thank you for all your love and well wishes. I look forward to all the belly touching! Xx"
Several months into her pregnancy, sources close to the couple told E! News, "Chrissy is feeling great...She is taking good care of herself and making sure everything is going well with the baby."
The insider also added, "John is being really supportive during Chrissy's pregnancy. It's so cool for [them] to see her belly grow."
We can't wait to watch them grow as parents!