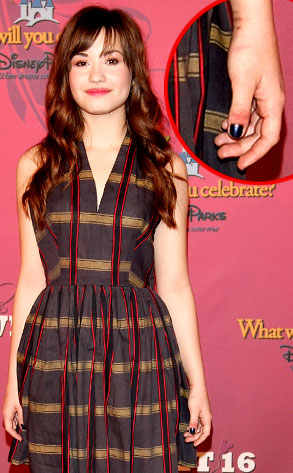 Kevin Winter/Getty Images
Demi Lovato is a cut above this latest rumor.
Responding to an innocent musing from blogger Perez Hilton that Selena Gomez's BFF could be self-mutilating, a rep for Lovato tells E! News that the allegation is "completely false."
"Demi was wearing gummy bracelets just prior to her appearance on the red carpet and, because of how tight they were, they left indentations on her wrist," publicist Allison Leslie says, referring to a zoomed-in pic showing a few thin red marks on the inside of the 16-year-old's wrist.
And, considering the controversial photo was taken on the red carpet at Miley Cyrus' 16th birthday party (the one on Oct. 5, not to be confused with all her other B-day parties this year), Perez's suggestion that maybe the Disney Channel queen dug her claws into the the Camp Rock darling is probably nothing but wishful thinking on his part.
—Reporting by Ashley Fultz