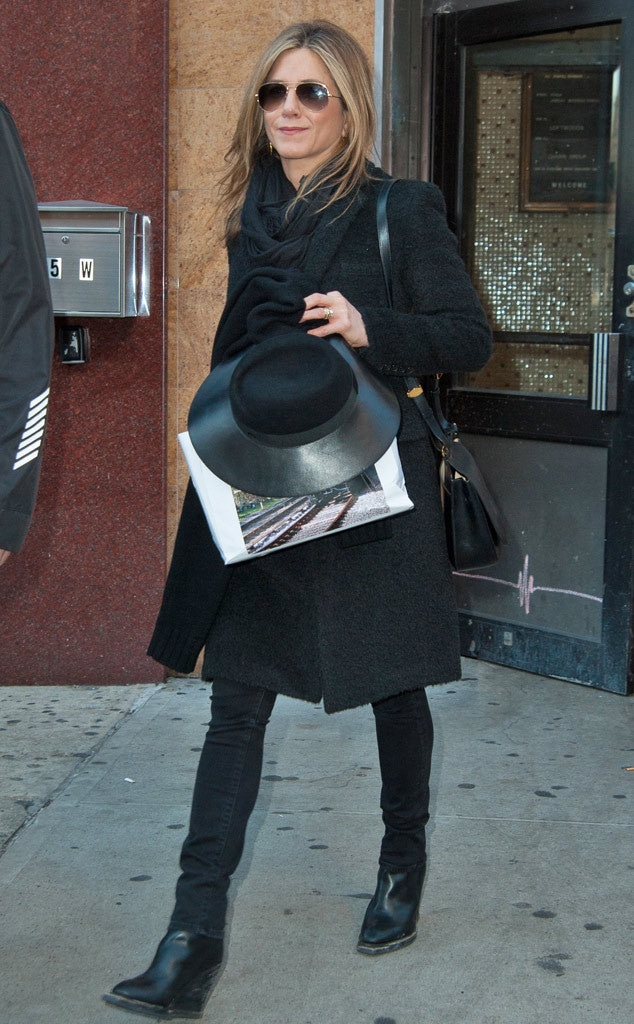 North Woods / Splash News
Consider Jennifer Aniston another person who is onboard the taco cleanse.
While interviewing with Yahoo Food, Aniston found out about the diet book that's sweeping the Internet, The Taco Cleanse: The Tortilla-Based Diet Proven to Change Your Life. The book describes a vegan diet plan that has people eating some sort of taco for each meal. Released in December, the book is written by taco "scientists" Wes Allison, Stephanie Bogdanich, Molly R. Frisinger and Jessica Morris, who claimed they lost weight after 30 days of eating only tacos.
"I'm riveted [by the Taco Cleanse]," Aniston told Yahoo Food after quickly Googling the book. "I can see that being something."
But let's be serious, we're all a little suspicious of the diet that truly sounds too good to be true. And Aniston is the same. "Isn't the corn tortilla, like, not that good for you?" she asked. "It's interesting."
This, however, isn't deterring her from exploring the idea a little further. "I already ordered the book on Amazon!" she revealed.
The authors promise in their book that people who try their method will see positive results all while enjoying their favorite foods. "A group of vegan taco scientists in Austin, Texas, know just how you feel, and now reveal their one-of-a-kind cleansing journey that anybody can follow and stick to—the Taco Cleanse," reads the book description.
"While the typical cleanse works by depriving you of your favorite foods, the plant-based Taco Cleanse rewards your body with what it naturally craves: tortillas, refried beans, guacamole!"
They don't tout only corn tortillas, which means you have the freedom to whip up your own variety. The "scientists" even include a recipe for waffle tortillas!
"Even if you do nothing else, your mood will brighten in just 24 hours. Keep eating tacos and within a week your outlook will be noticeably improved," the book promises. "After 30 days, cleansers report lasting benefits—and you will, too!"
Sounds like a good resolution to us.