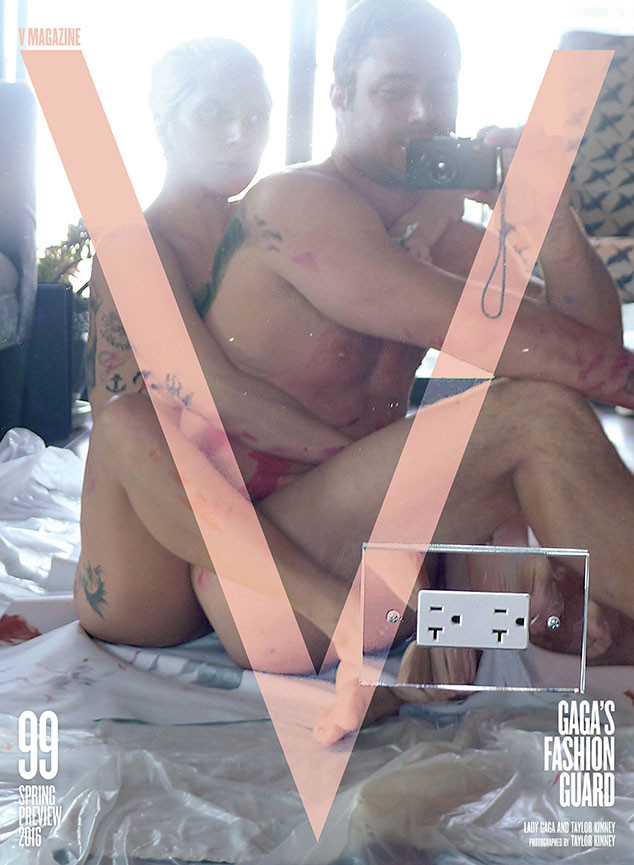 Taylor Kinney
Well, that's one way to make whoopee!
Lady Gaga and her fiance, Chicago Fire star Taylor Kinney let it all hang out while revealing their latest cover for V Magazine's Spring Preview Issue, for which Gaga was the guest editor.
Feast your eyes on a very naked pair of lovebirds posed on the floor, which is covered by a paint canvas. Both Gaga and Kinney are covered in paint and little else as they pose for a mirror selfie, snapped by Kinney himself. If the image didn't have enough of a realistic vibe, take a gander at the outlet plug in the lower right hand corner.
According to the wildly expressive starlet, this image encapsulates a frequent pastime for the engaged pair.
"Since we first met, Taylor's been drawing and painting all over me," Gaga wrote in her editor's letter for the issue. "Years ago, when we were secretly living in San Diego and crashing on the floor of a beach shack, we never wore shoes. He told me he wanted to make love to me on a canvas."
Spoiler alert: his dream came true.
"We made love on the canvas on a Sunday in Chicago," she shared with Yahoo! Style. "We made love amidst chaos. We talked about shootings. We made love amidst terrorism and we talked about how people's hearts are also suffering all over the world as they watch and witness a swell of violence. We made love amidst violence."