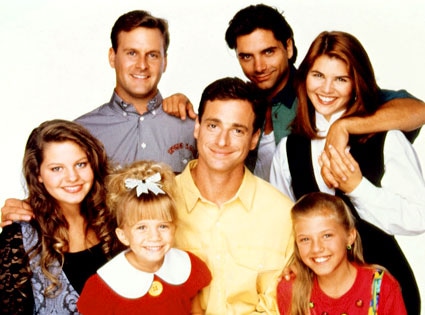 ABC
Have mercy!
Just as Warner Brothers officially shoots down rumors of a Gossip Girl spinoff, I've just been told by a reliable inside source that John Stamos is no longer pitching a "semi-remake" of Full House.
"We couldn't make the deal," says the source, who is close to the project. "It's completely dead right now."
So how will we find out what Uncle Jesse, D.J., Stephanie and the rest of the trusty Tanners are up to?
And how will Mary-Kate and Ashley pay their rent?
Well, it "could happen in the future," says the insider.
Earlier this week, Candace Cameron Bure (D.J.) told OK! magazine: "John Stamos has actually been working on a semi-remake of Full House. I know it would involve me and Jodie [Sweetin]...We would revive our characters but today as young women."
With the success of the CW's new 90210 and plans to relaunch a new version of Melrose Place, not to mention NBC's attempts at Knight Rider and Bionic Woman, clearly nostalgic TV remakes are something of a trend, but I'm told there wasn't enough interest in a House of Tanner women without either of the Olsens (who'd be about as easy to book as series regulars as God).
Were you hoping for Full House reunion? What other old-school remakes would you like to see? And when ER shuts its doors this March, where you would you like to see Stamos next?