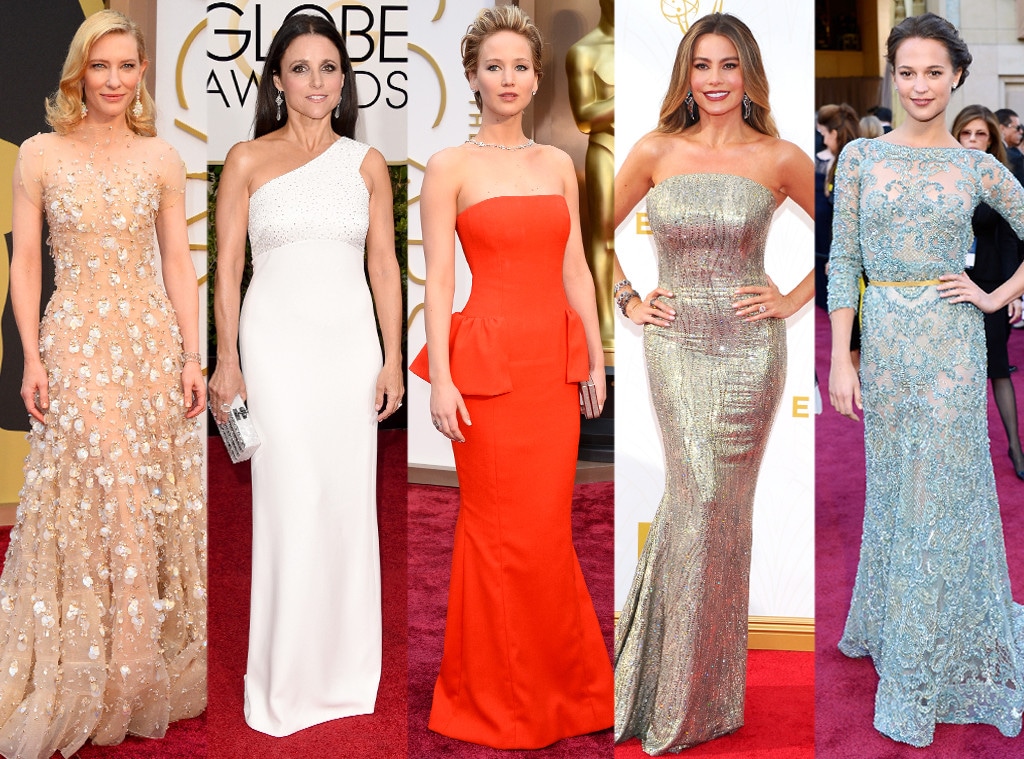 Kevork Djansezian/Getty Images, Jason Merritt/Getty Images, Jordan Strauss/Invision/AP, Vince Bucci/Invision for the Television Academy/AP Images
Another awards season is upon us, and we know you can't wait to see who shows up on the red carpet together at the 2016 Golden Globes tonight.
Johnny Depp and Amber Heard, Channing Tatum and Jenna Dewan Tatum, Jennier Lawrence and Amy Schumer, Leonardo DiCaprio and his mom, sure. But everyone knows that the real excitement lies in seeing who shows up with Ralph Lauren, Dolce & Gabbana, Neil Lane and Chopard.
Let's just say, there are no cheap dates on the red carpet.
Behind every step taken on a red carpet this awards season, there's big business. An A-list award nominee can earn half a million dollars for wearing a gown, or a quarter of a million for a necklace, says New York-based publicity executive Matthew Berritt.
Awards shows have become a "pay to parade" performance, according to Berritt, director of EVINS Communications' Lifestyle Division. A veteran expert in strategic partnerships for luxury brands, he says that on each red carpet night, most celebrities, male and female, are compensated for wearing haute couture and jewels from fashion's biggest names.
And after the carpet has been rolled up, the awards doled out and the after-parties done with, the jaw-dropping outfits often return to their original owners—the designers.
For the actors, it's not only a no-strings-attached paycheck, but also an opportunity to make a future endorsement deal or become a brand ambassador—or, perhaps just as importantly, have a major fashion Moment.
Steve Granitz/WireImage.com
For the well-known designers and other brands, it's a much-needed way to stay relevant and be part of the pop culture conversation. For the unknown or newer names, it's a rarified chance to increase sales and be reborn as the next celeb-favorite brand. Even more companies can cash in, as well, by creating knockoffs of the biggest red carpet trends to appeal to a wider clientele.
Sort of like dating, in every pre-awards styling decision there's the frenzy of getting ready, the arrival, the date itself and the morning-after postmortem. (I.e. best or worst-dressed?)
But in this day of social media trends, instant reactions and everybody being a critic, how does it work now and what lies ahead for the big business of getting celebs ready for the red carpet?
Designers want celebrities to wear their collections but how do they get actors to do so? Of course the stars want to look their best, but ultimately it takes a small village to secure the crown of Best Dressed.
"The talent is getting it from every direction. The stylist is pushing a piece. The agent is pushing other offers with different paid wardrobing opportunities," Berritt explains. "Publicists and brands are reaching out to talent directly."
In the past, stylists and others would often get paid $5,000 to $10,000 under the table to recommend a dress or designer to the celebrity.
"Years ago, PR and stylists were getting paid next to nothing so how do stylists get more money? Through under the table deals where they are the middle men, the gatekeepers, looking for options to recommend and pitch the offers being presented to them," celebrity branding expert Jeetendr Sehdev tells E! News.
But in the past five years, celebrities have become closer to the brands, directly taking part in negotiations, Sehdev, a professor of marketing at USC, said. As a result, there has been that rise in celebrity partnerships with the brands.
"It is really very interesting," brand partnership expert Berritt noted. "Once, only nominees received paid wardrobing offers, but now there's a huge pool of nominees, presenters, notable attendees and even hosts. All are tiered in regard to cost, typically ranging from presenters at the low and host at the top. When it comes to hosts, opportunities are slim, but Anne Hathaway was an excellent example. On the red carpet before the show she co-hosted in 2011, Hathaway wore a $10 million Tiffany Lucida Star diamond necklace, ring and earrings to accent her red Valentino gown.
Press Association via AP Images
Nominees, especially for the Oscars, can almost write their own ticket. The cap is $500,000 for a nominee to wear a gown or $250,000 for jewelry, Berritt said. The number nudges down to $100,000 per item for presenters, depending on who they are.
"Attendees (Clooneys and Jolies not withstanding) are paid the lowest to wear jewelry or a gown," Berritt said. "It's about $20K to wear a piece if you are reasonably notable."
Jason Merritt/Getty Images
But the selection process runs both ways. Top designers are in high demand, too; so, just as the competition goes for a coveted role in a top director's movie, actors are competing to wear the top designers' most stunning creations.
"They don't want to wear the same dress, designer or brand," Sehdev said. "If you look at the list of the most prestigious, there are only a handful of them. There is a competition where the brand wants who they think will be the best partner and a lot of them don't pay until the celeb is under an endorsement deal.
"It's no different than any other element where the same group of people are going after the same thing."
Behind the scenes, B-list celebrities are always trying to get into an A-list gown, Sehdev added.
"They know the association [with a top designer] alone might reposition them as a big star. A lesser celebrity will wear a dress for free and they do that strategically," Sehdev said.
Wearing a dress at no cost can also be a calculated move by an A-lister to show interest in a larger endorsement deal or a brand partnership, Sehdev added.
On the other end of the spectrum, there are some brands and designers who will never pay and some stars who really just appreciate the fashion.
For instance, celebrity jeweler Fred Leighton doesn't pay but his exquisite pieces are worn by six out of 10 stars on every red carpet, Berritt added.
"Fred Leighton is not [just] a brand, but rather a curated in-house collection per se. A curator of beautiful vintage jewelry," Berritt says. "For the most part, these are one-of-a-kind pieces. There is serious fashion cred that comes along with being entirely decked out in Fred Leighton. That is why people wear it for free. It is a collection of beautiful jewelry and it is a badge of fashion honor."
"I'm often asked if there are celebrities who can't be bought," he continued. "Technically, yes, but they are very few and exceedingly far between."
But when no money exchanges hands, it doesn't mean the stars, stylists or publicists don't see possibility down the road.
Meanwhile, no matter how major the celebrity or well-known the brand, all must be mindful these days of increasingly savvy audiences.
The fans watching on TV and live-tweeting the red carpet from home want to see perfection—but not the kind that feels forced on them by a corporate glam squad.          
"What is scary from a brand perspective is that the public is really starting to understand that Santa just doesn't exist and it is unfortunate because these opportunities used to happen in a seemingly organic manner," Berritt says. "However, more and more often, they appear obviously contrived."
Therefore, some high-end brands are moving away from pay-to-play opportunities. 
"Underestimating the intelligence of your audience is risky business," adds Sehdev. "These kids are savvy and more spin-doctor-proof than the previous generations so they don't want to be marketed to. The marketing comes from their friends saying this is a great product."
When the stars align, so to speak, it can make for a powerful fashion moment. Lupita Nyong'o wearing her Nairobi-blue Prada gown at the 2014 Oscars, for instance, was a "great collaboration," says Sehdev. "It was authentic. The pairing seemed right and you could see she felt good in it."
Christopher Polk/Getty Images
But it's hard to put a value on dressing a celebrity for one night. "The message on the red carpet is not necessarily about what they are wearing but the celebrities themselves. In commercials, the message is about the brand but associating with a celebrity can be really powerful."
"Big brands wants to partner to remain culturally relevant and the currency associated with TV and film pop culture," Sehdev continued. "Everyone is looking to create value but we are getting a shift from events and TV advertising to social media. The red carpet is incredibly outdated and almost a legacy of Hollywood. Brands are getting frustrated. A lot of celebrities are looking to social media, posting candid photos, and that is the new red carpet."
The aspirational consumer is driving the market now. Celebrities wear the brand, then the aspirational consumer posts about it.
"Please understand, though, getting a consumer to think is good, but getting them to feel is great," Berritt says, explaining the importance of brand-name awareness spreading via social media. "After all, the heart is closer to your wallet than your head. Aspirational consumers are passionate; when they post on Instagram, their heart is in it. Followers can sense the authenticity and, thereby, their heart is captured…Get to consumers' hearts and you will quickly find your way to their wallet." 
Most people of course can't afford that haute couture dress they saw on the red carpet. Those dresses tend to be sold in designer showrooms to consumers with deep pockets who frequent luxury brands, according to Sehdev.
Luckily some fans can "lease" some of the luxury they see on the carpet through companies like Rent the Runway, which boasts a selection of designer dresses, and Eleven James, if you'd like to temporarily sport a super-expensive watch so that you know exactly when it's party time.
"Even those who can't afford to purchase the dress or jewelry can still access or experience luxury in other ways," Berritt says. "Whether or not you are buying or leasing, the brand is still benefiting because you are spending money on their product."                                                                         
But still Berritt compares dressing celebs for the red carpet these days to risky "subprime loans."
"I'm waiting for the other shoe to drop," he says. "The red carpet recession, with regard to fashion and jewelry, is nearly upon us. I believe we are an awards season or two away from the decline. I, for one, do not pay for red carpet wardrobing anymore. Period."
E!'s Golden Globes coverage starts Sunday at 4 p.m. ET / 1 p.m. PT. E! Online's livestream will begin at 5:55 p.m. ET / 2:55 p.m. PT. Plus, watch E! After Party: The 2016 Golden Globes at 11 p.m. ET / 8 p.m. PT.
And don't miss the Fashion Police Golden Globes special Monday at 8 p.m. only on E!