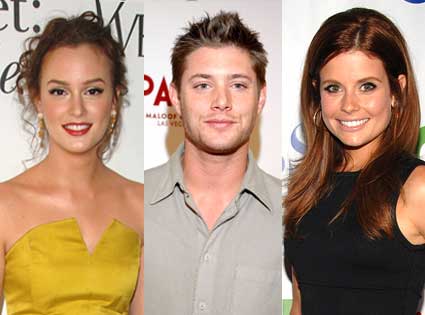 AP Photo/Peter Kramer, Steve Spatafore/Getty Images, Jean-Paul Aussenard/Getty Images
Update, Sun. Dec. 14, 4:56 p.m.: For those of you who wanted to know, the CW Awards poll runs through Dec. 19 and the results gallery will go live on Dec. 22. Good luck!
Awards season is here, and as per bah-humbug usual, the fancy trophy-giving institutions seem poised to shut out the Littlest Network That Can. It's hard out there for a CW show, but the industry elitism ends here and now, because we know how much good stuff is going on at the See-Dub. (As do many of you fellow fans, who emailed in yesterday after the Globes noms.)
Therefore, in an effort to redress these wrongs, we are launching the first ever CW Awards. 
The question, of course, is which CW actors, auteurs and series deserve to take the top spot, and only you can decide the answer, so drop in and vote...
So, that's the list. Are we on crack? We know, we (accidentally? purposely?) forgot Chad Michael Murray for best actor. Whoops. Anyone else who should have been there?
Read us the riot act in the comments or take a minute to talk up your show...
Thanks for playing!
XOXO,
TV Gossip Girl