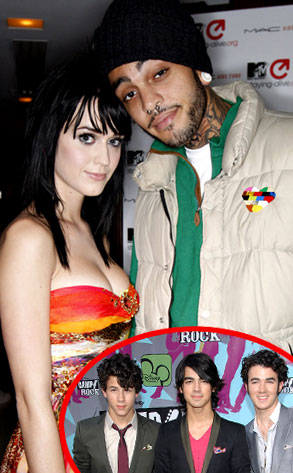 MJ Kim/Getty Images; AP Photo/Evan Agostini
Hey, all you squeaky pop dudes, somebody's not too pleased with your success. But first, gotta tell ya some even sadder news: Sorry, John Mayer, Pete Wentz has a new BFF. Maybe Ashlee wasn't so fond of Aniston? See, Petey invited pal Travis McCoy, frontman of Gym Class Heroes and Katy Perry's man, to live with him for a month and create art—the result of which was put up on exhibit at Gallery 1988, Melrose.
Guess you and Wentzy are pretty tight? We inquired at the reception. "We have best friend tattoos," said Travis. Immediately, he grabbed Pete's hand and showed off their heavily tattooed wrists. "Mine says 'Young Hearts' and his says 'Be Free.' It's the friendship bracelet you can't take off."
Too sweet 'n' cozy, really. Hey, are you mad that Katy didn't get more Grammy nominations? "Not to sh-t on the Jonas Brothers, but they got like three albums out, so to be nominated for Best New Artist?" he asked, his pained face making it quite clear this was a bitchy rhetorical job, to be sure.
"Despite the Grammys, it's definitely her year. I'm so proud of her," offered, McCoy, very good boyfriend-like.
So can we expect some collaboration between the two of you hot young things? Don't count on it. "I don't know if we'd do the Sonny and Cher thing." Hey, worked for Sonny and Cher. For a while, at least.
—Additional reporting by Becky Bain