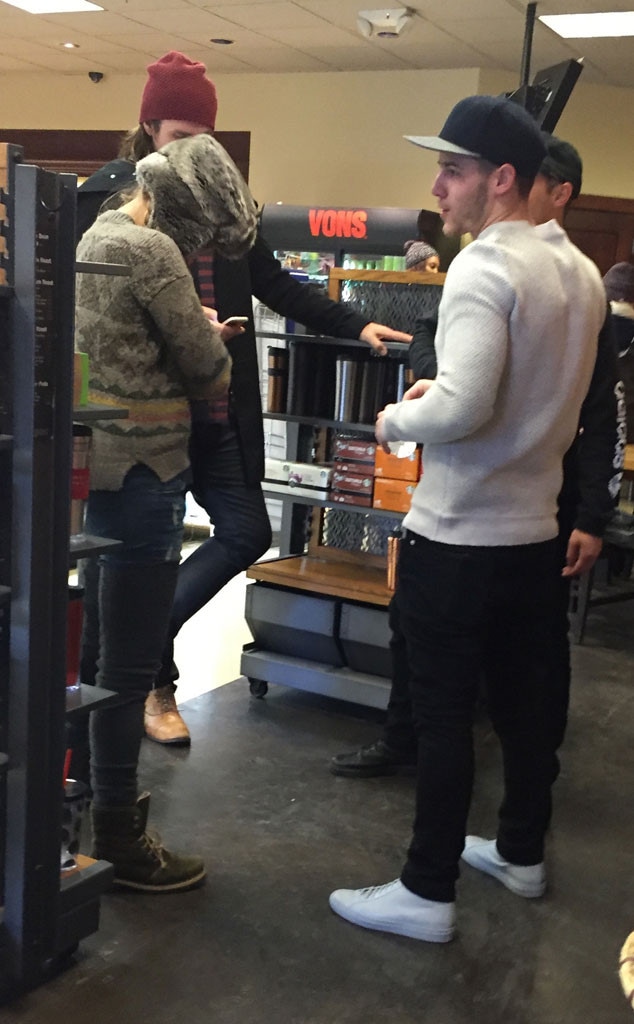 AKM-GSI
We'll take a cup of coffee with a shot of romance rumors please.
It's been months since Kate Hudson and Nick Jonas have been spotted hanging out together. All that changed, however, when the Hollywood stars were seen hanging out at a Starbucks Coffee in Mammoth Lakes, Calif.  Monday afternoon.
A source tells E! News that Kate's brother Oliver Hudson and two other girls joined the twosome for a drink during the winter getaway.
"Kate was dancing around and laughing. She was very giddy and in great spirits," our insider shared with E! News. "They were laughing a lot and very flirty. Nick picked up the tab for everybody's coffee."
Joe Jonas was also recently spotted in the area enjoying the snowy weather and slopes. In fact, E! News exclusively obtained photos of the DNCE member kissing former America's Next Top Model contestant Jessica Serfaty.
While it's the first time we're seeing Joe with a new lady, there has been much speculation surrounding Nick and Kate for several months. After partying together in Miami back in September, these two haven't been able to avoid romance rumors.
Even when asked point-blank about the speculation, both stars have kept fans guessing with their answers.
"I don't like addressing any kind of gossip," Kate recently shared on Watch What Happens Live when asked about the dating rumors. "I mean, my agent has been my mystery man maybe 25 times."
As for Nick, he hasn't helped confirm or squash rumors either. We do, however, know what the "Levels" singer is looking for in a leading lady.
"It's about finding someone that makes me think, brings something real to the table and just inspires me in some way," he recently shared with E! News. "I'm a person that likes to be around the people I love."
—Reporting by Sara Kitnick