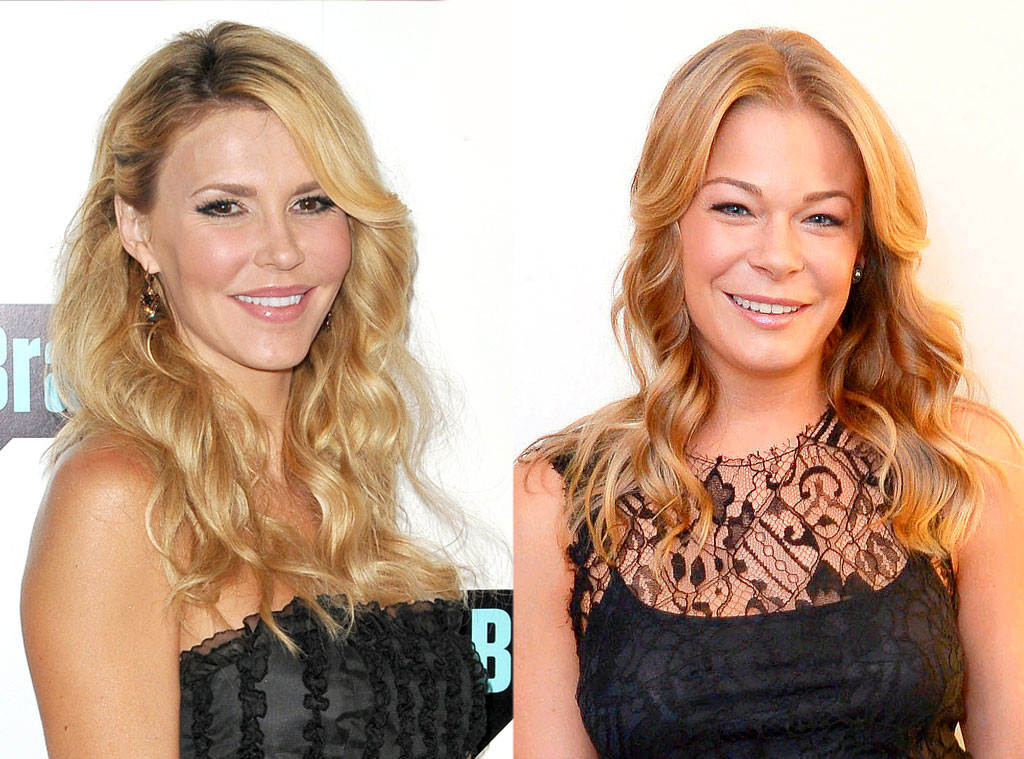 startraksphoto.com
Brandi Glanville and LeAnn Rimes are still at odds.
Although it's been six years since her ex-husband Eddie Cibrian had an affair with the country musician, the former Real Housewives of Beverly Hills star says she and LeAnn "still battle" at times. "I have an issue with her posting pictures of my children on holidays. It's horrible," she recently said on Nik Richie's Podcast One. If my ex-husband, if their dad isn't posting pictures, why is she?"
Brandi, 43, and Eddie, 42, share custody of sons Mason Cibrian, 12, and Jake Cibrian, 8. LeAnn, 33, often shares pictures of the former couple's boys via social media and uses hashtags like "#stepmom" in captions. "Get that vodka out. I'll grab three bottles of chardonnay, cry myself to sleep and look at what they're doing for Christmas. It's hell. I told her, I said, 'It doesn't make me mad, it hurts my feelings,'" Brandi said on the podcast. "I'm missing half of their life as it is."
To her credit, Brandi is grateful that her boys have a good relationship with their stepmother. The former Bravo reality star just wishes LeAnn would be more considerate of her feelings, particularly around Christmas. "I tucked my tail and went, 'Please, just around the holidays, don't do it,'" she said. "And she's like, 'It's my family, too, and I'm gonna do whatever I want.'"
So, how does Brandi cope? "I begged and tried for so many years to get things to change and they haven't," she explained, "so I have to just f--king accept it that I'll see pictures of my kids on Thanksgiving in a horse drawn carriage looking perfectly happy and I'll cry myself to sleep."
When she first leanred of Eddie's extramarital affair, Brandi wasn't famous yet. "No one knew who the f--k I was...Really, no one knew who Eddie was. He was a hot guy that did small parts of TV shows. This whole affair really put us into the mix of tabloids," she said. "We were on the cover of Us Weekly, Star. It went on for months and months, because it was the same time that Tiger Woods had cheated and Jesse James. It was like Eddie started it. I said we were the D-list and we started it first. Thank God A-listers got f--ked up cheating, too, because it kind of took the pressure off me and I didn't have to turn on the TV and see it over and over and over again. It was definitely a mind f--k. I wanted to stay in the marriage because I thought it was a one-time thing, then I found out he had other girlfriends and he never really stopped seeing her."
Leaving Eddie was the "hardest thing I've ever done," she said, adding that she went into a "dark depression" as a result. Fortunately, she had her sons to lean on for support. "My kids saved my life," Brandi confessed. "If I didn't have my kids, I'd be in a straitjacket somewhere."