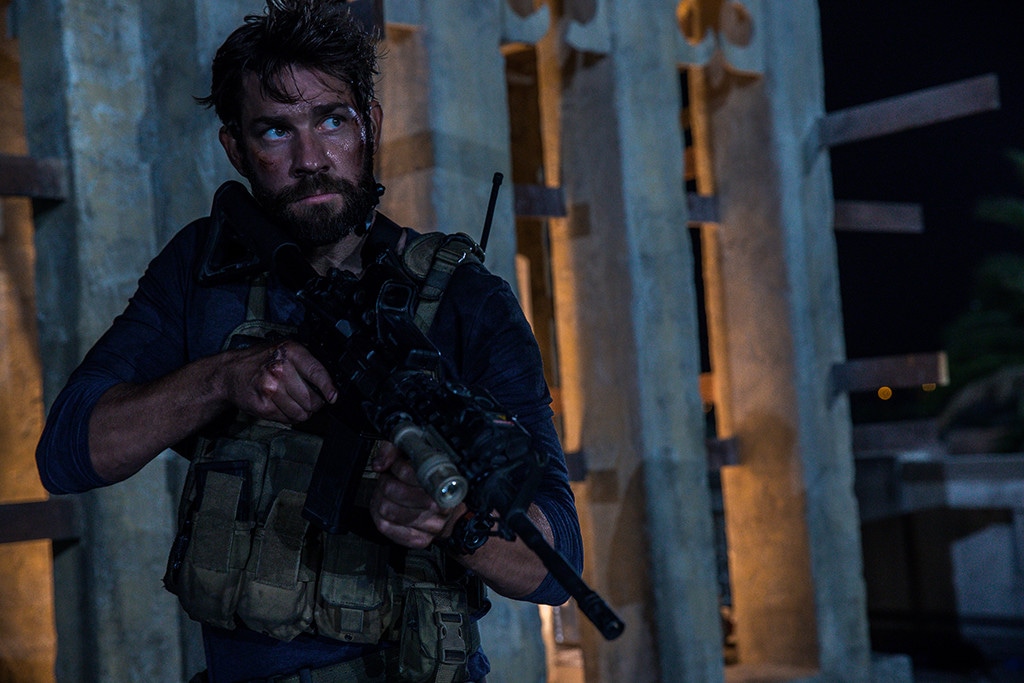 Christian Black
John Krasinski has never looked better, yet Emily Blunt "hates" his body.
Stephen Colbert showed a still of the actor's shirtless scene in the upcoming movie 13 Hours: The Secret Soldiers of Benghazi on The Late Show Tuesday, asking, "Did you always want this?"
The former TV star smiled and joked, "I looked that in The Office. You just didn't see it much." Colbert laughed and told Krasinski, "That show would have been successful if you only had."
To get in shape for his role as CIA contractor Jack Da Silva, Krasinski said he had to put in "a lot of work" in very little time. "And it's real work, too. I thought it would be like, 'Yeah, let's eat a couple Power Bars and do push-ups.' And he was like, 'No. It's going to be a living hell for six to eight weeks.' We went two sessions a day with my trainer, Jason Walsh. He's amazing. He did Bradley Cooper in American Sniper and all these great people." Krasinski said Walsh had him doing "two-a-days, pulling sleds, pushing weights. I was like, 'What about these bicep curls?' He was like, 'No, it's so much harder than that.' Like, 'You have to do 80 push-ups by tomorrow.'"
Before training for the movie, Krasinski confessed, "I couldn't do one pull-up. I was like, 'How hard are these pull-ups, really?'"
Did Blunt learn to love his new body? "She hates it," he said of the Golden Globe winner. "She would way prefer to have doughy guy back."
"'Doughy' is a strong word," Colbert said.
"No, like sweet-faced," Krasinski clarified.
"You're still sweet-faced," Colbert assured him.
Colbert revisited the shirtless still of Krasinski later in the interview, saying, "You have a great career, you've got that, you've got Emily Blunt. Are you trying to make people resent you?"
"No," the actor said. "Listen, I'm one of the luckiest guys in the world."
Blunt happens to be in incredible shape, too, thanks to rigorous training for roles in movies like Edge of Tomorrow and Sicario. In fact, her workouts sometimes scare Krasinski. "I watched her fight train, because we trained out in the same gym. And then she did very extreme fight training, and I walked by a door just to be like, 'Hey! How's it going?'" he recalled. "And she was punching and elbowing this bag that was starting to open with, like, fluff in it, and all I could think was, 'Please don't have a nightmare tonight! Please don't have a nightmare tonight!'"
Given Blunt's accomplishments, Colbert was curious how Krasinski landed such a wife. "When I met her I was so nervous. Everybody's like, 'What was your line?' And it was just this: [Silence]. And she was like, 'Hi! How are you?' And I was like, 'Pretty good.' I just, like, touched her face, and she was like, 'Don't do that," the actor said. "Then they called security and we got married."
"No green card situation?" Colbert asked.
"No," Krasinski said. "Although she now is a citizen, so...Oh, boy! I hope she sticks around."
Krasinski was on The Late Show to promote 13 Hours: The Secret Soldiers of Benghazi, in theaters Jan. 15.
"I think people think they know a lot about Benghazi because it's been in the news a lot...There's been so much talked about it politically that I think we've overlooked the human story of these six guys and what they did that night," he said of the premise, based on the 2013 book 13 Hours by Mitchell Zuckoff. "Basically, it's six guys who were not active duty. So, they're not in the military. They have no obligation to go help anybody. In a drop of a hat they left and put their lives on the line, and were in my opinion, the true definition of heroism. I think we tell a lot of superhero stories and it's nice to tell a story about real heroes."
Watch:
Emily Blunt Sounds Off on Intense Training With the FBI