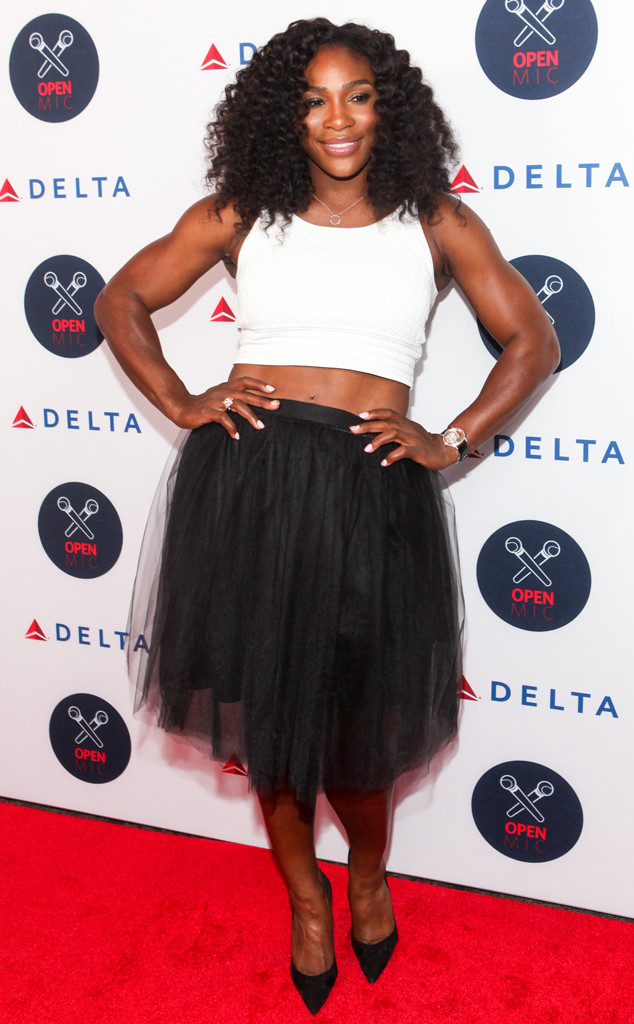 Steve Zak Photography/FilmMagic
Serena Williams is done defending her body.
The tennis star opened up to the U.K.'s The Times magazine about her muscular frame and revealed that she's aware of what gets said behind her back. But rather than address the haters' mean comments all the time, she opted to do something different: learn to love herself.
"I know I get flack for my physique, and it has been a struggle to love my body, but now curves are in and I'm happier in myself," she told the British publication. She also explained that the criticism began when she was just a little girl and that she struggled seeing more petite sports stars surrounding her.
"When I was younger, it was hard seeing all these thin athletes when I had more muscular curves and was big-busted," she added. "Just try running with DDs that are bouncing seven inches up and down! It's distracting, not to mention dangerous, because you can tear ligaments."
But boobs be damned! Now Serena is completely content with her body, and a little help from J.K. Rowling doesn't hurt, either. The Harry Potter author defended Serena's body when an unknown follower named Rob claimed "that [the] main reason for her success is that she is built like a man." Rowling wasn't willing to let this one go, and responded in the most epic way possible.
Sharing a picture of Serena looking like an absolute boss in a short, tight red dress, Rowling wrote, "Yeah, my husband looks just like this in a dress. You're an idiot."
After winning Wimbledon for the sixth (!) time over the summer, Serena wore a show-stopping cream gown to the annual Champions' Ball at Guidhall in London. While Venus Williams' sister didn't directly address the negative comments she did caption a glam red carpet shot of herself, "swerve." Clearly, she couldn't have cared less about what anyone has to say about her and her curves.
You tell 'em, Serena!
While the interview is still on The Times site, a rep tells E! News that she did not give this interview to the reporter.
Related:
Serena Williams Says Sexy "SI" Cover Is "Really Amazing"