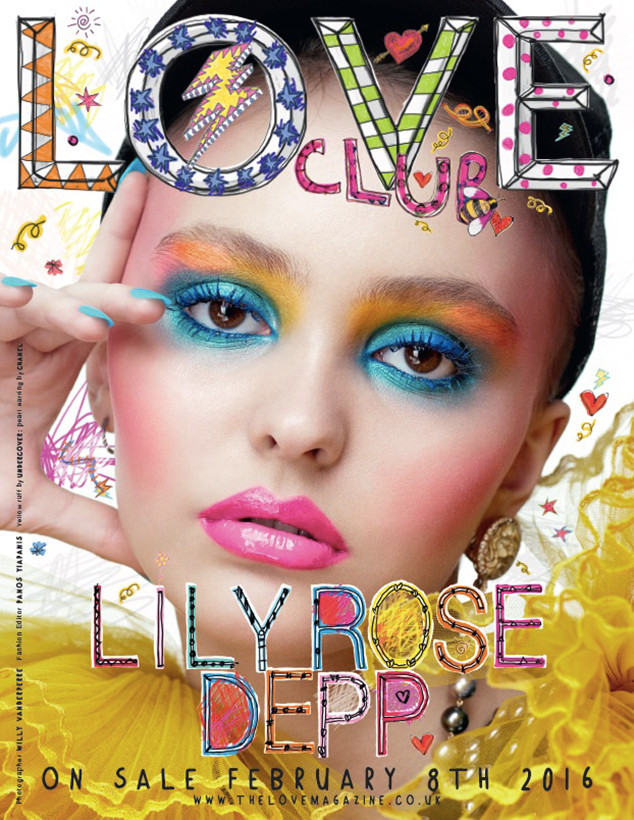 LOVE Magazine
Lily-Rose Depp, the teen model who also happens to be the daughter of Johnny Depp and French songstress Vanessa Paradis , graces the February 2016 cover of Britain's LOVE magazine.
The British pop-culture mag is published bi-annually and usually features multiple cover stars per issue. It's distinctive cover photography ranges from artsy and fashion-forward, to picturesque and occasionally, fairly risqué. Lily-Rose's cover is no exception. In fact, the chosen-photo is nothing short of, dare we say, Insta-worthy?! The stunning 16-year-old shared the cover image on her Instagram account this past Sunday along with the thankful caption, "#love16 Cover thank you!!! @thelovemagazine @kegrand@willyvanderperre @panosyiapanis."
No, Lily-Rose. Thank you!
The cover features a close-up in which Lily carries (albeit impressively well) quite the heavy face of makeup. The young model wears a thick layer of bright blue eye shadow, topped off to the brow with a fire-orange highlighter and matching frilly orange frock. She rocks a glossy pink lip and a pout that would give Kylie Jenner a run for her money. But you didn't hear it from us!
With her LOVE cover, Lily-Rose joins the ranks of former cover stars Cara Delevingne, Rosie Huntington-Whiteley, Miley Cyrus, Kendall Jenner, and Kim Kardashian, just to name a few.