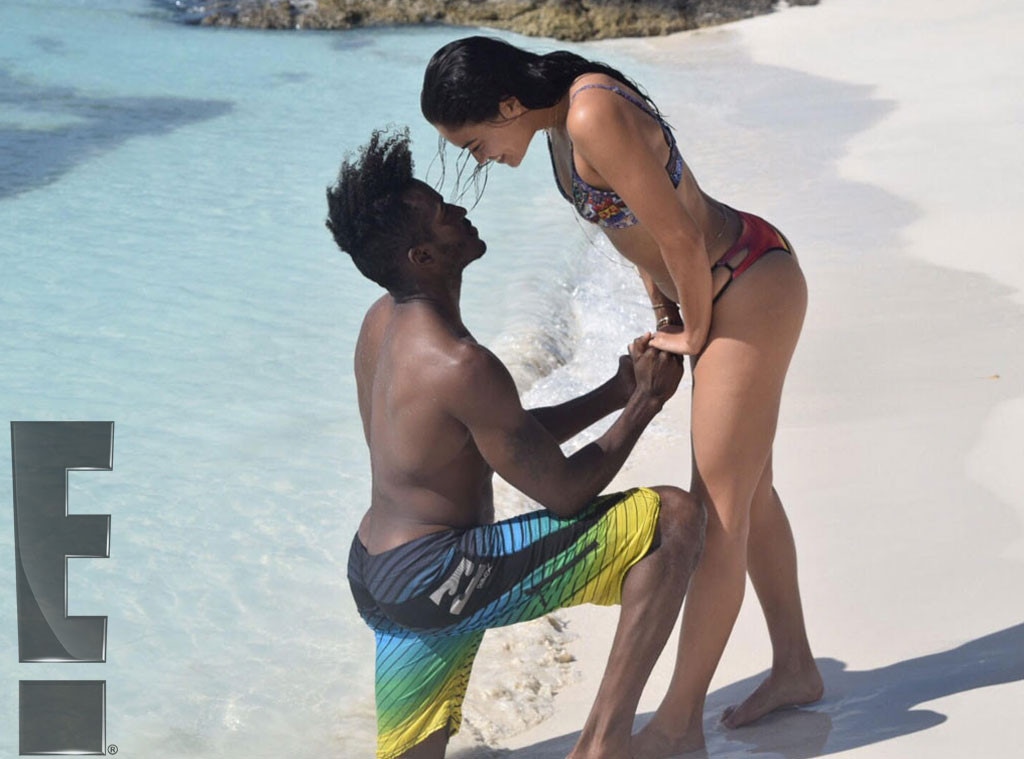 Courtesy Shanina Shaik and DJ Ruckus
Shanina Shaik is officially off the market!
The 24-year-old supermodel and DJ Ruckus are engaged, and E! News has exclusive details about the romantic proposal and Shanina's stunning ring.
An insider tells E! News exclusively the proposal took place Dec. 26 on DJ Ruckus' cousin Lenny Kravitz's private beach in the Bahamas. Shanina's love waited until they were alone, says a source, then got down on one knee and asked if she would marry him.
He also presented his bride-to-be with one heck of a sparkler—actually, two of 'em! A source tells E! News DJ Ruckus enlisted jeweler extraordinaire Lorraine Schwartz to help him design the perfect ring, but because he had so many ideas and wanted to make sure Shanina loved the ring, he ended up having two rings created and let the bride-to-be choose her favorite!
Courtesy Shanina Shaik and DJ Ruckus
Shanina opted for the stunning gold hexagon-cut diamond which had both her and DJ Ruckus' initials engraved in diamonds and an amethyst (her birthstone) under the ring. DJ Ruckus' future wife proudly showed off her bling on Instagram Monday, when she shared a sweet selfie with her fiancé. "This [Love] is a sure thing!" she wrote. "I said 'YES!!  "YES!!" @djruckusofficial #loveofmylife #mrsandrews #heputaringonit #togetherforever"
Courtesy Shanina Shaik and DJ Ruckus
It was a perfect proposal, but it couldn't have gone down without a little help from...Denzel Washington? Yep, that's right! Because FedEx didn't deliver on Christmas Day, DJ Ruckus asked family pal Denzel and his wife Pauletta to bring the bling out from L.A. so both rings arrived in time for his proposal.
Courtesy Shanina Shaik and DJ Ruckus
After Shanina accepted DJ Ruckus' proposal, the newly engaged lovebirds toasted with their friends and family (including Shanina's mom Kim) who were also vacationing on the island. Lenny was there, of course, as was Zoe Kravitz and Twin Shadow. To earn some brownie points with Shanina's mom Kim, DJ Ruckus Face-Timed her favorite actor Tyrese and let her tell him the good news! 
Courtesy Shanina Shaik and DJ Ruckus
DJ Ruckus and Shanina also Face-Timed his mentor and sometimes deejay partner Rev Run so he could share in the excitement as well.
Then, after sufficiently celebrating with family and friends in the Bahamas, Shanina and DJ Ruckus jetted off to Dubai, where DJ Ruckus deejayed at Jean-Georges at the Four Seasons for New Year's Eve. From there, the newly engaged couple made their way to the Maldives to continue their celebrations.
These two do it big, huh? Congratulations to the happy couple on their great news!
Former Bachelorette star Kaitlyn Bristowe is a bride-to-be, too! Check out her and Shawn Booth stunning engagement photo shoot below.