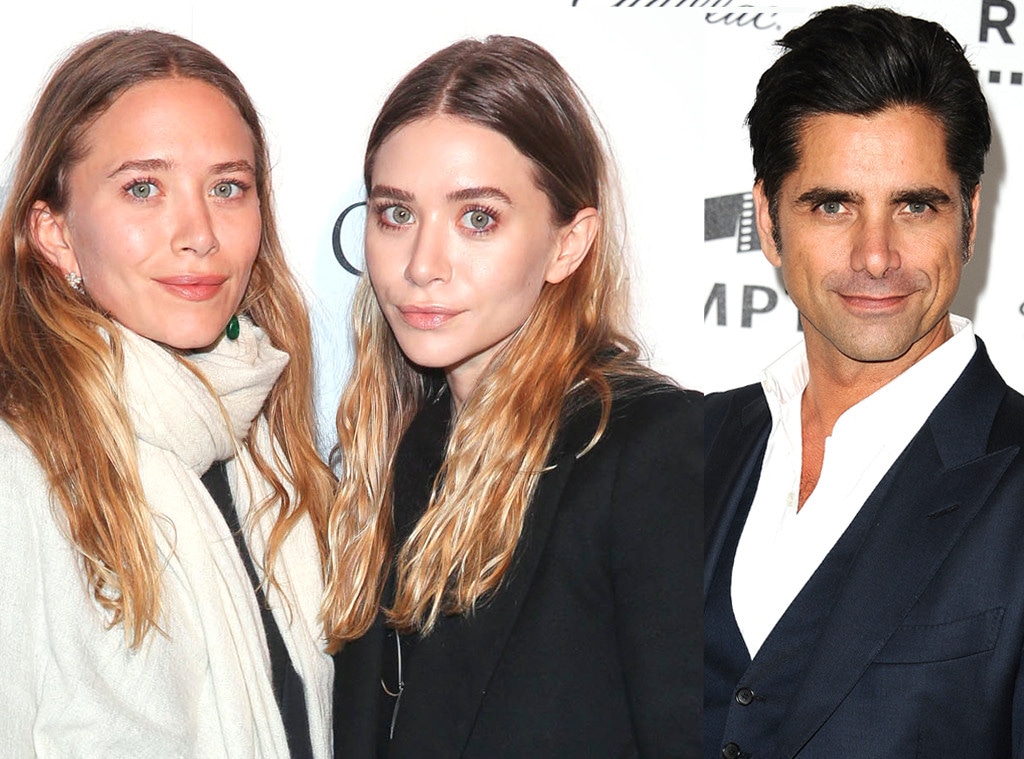 Rob Kim/Getty Images/Jason LaVeris/FilmMagic
The return of Full House's Tanner family in Netflix's Fuller House is nigh. However, it won't be a full family reunion: Mary-Kate Olsen and Ashley Olsen did not reprise their role of Michelle Tanner during the first season of the upcoming comedy. Their public comments on the series came shortly after John Stamos announced the show and Stamos was quick to fire back in what became a (one-sided) somewhat tense he said-she said conversation thanks to Twitter.
After the initial announcement, the Olsens said they hadn't heard about the project. "I ran into Bob [Saget] the other day and we didn't even talk about it," Ashley told Women's Wear Daily shortly after Stamos announced the new series on Jimmy Kimmel Live. The Olsens said they only heard about the show after Stamos made the announcement. "I'm shocked I haven't heard from John [Stamos]," Mary-Kate said.
At the time, Stamos fired back, but quickly cleared the air. "I think there was some confusion. They said first I didn't ask them. And I didn't personally, but I was told they were asked," Stamos told Howard Stern on Stern's SiriusXM show. "So I had a knee-jerk reaction and said, 'Bulls--t, I did ask them.' And they got upset, so I did call and talked to Mary-Kate and explained what the show is going to be and told them I'd love for them to be on there and they decided not to, which I respect."
Stern suggested the Olsens, who have two successful fashion lines, could be too expensive, or "too rich" to care about the show.
"You'd have to ask them. They seemed…they were very, very sweet. They seemed very into it. They just were afraid of acting. They don't consider themselves actresses," Stamos said. "I said maybe you guys will just be in New York and we'll do a phone call or something and they were like, 'Let us think about it,' and it just wasn't for them so…"
"Although Ashley and Mary-Kate will not be a part of Fuller House, I know how much Full House has meant to them and they are still very much considered family," executive producer Robert L. Boyett said in a statement in 2015. "It has been exciting to see how they have built their professional careers, and I support their choice to focus on their fashion brands and various business endeavors. I appreciate their support and good wishes towards Fuller House."
Michelle Tanner's absence is explained in the first episode in a very tongue-in-cheek and very close to real-life way.
Stamos, who is also starring in Fox's Grandfathered, admitted to Stern he was tired of being called Uncle Jesse and his time on ER helped him break out passed the beloved character, but now he's at peace with the legacy. "Well I can embrace it now. I've done enough work… I could get rid of it, people don't," he said. "They just won't."
After trying to sell the spinoff for over a year, Stamos said Netflix came along and they were deemed a perfect fit. But he still was nervous about giving the Tanner clan another go, especially considering the fan anticipation level.
"I'm a little afraid because I don't know what people are expecting. It was always meant to be a spinoff. That we would… I did the first two, Dave [Coulier] does a couple, Bob [Saget] does a couple…Also we didn't know if they could act… Jodi [Sweetin] and Andrea [Barber] haven't acted for years. But they're fantastic. I swear," Stamos said.
Fuller House follows Candace Cameron Bure's DJ Tanner-Fuller, now a widowed mother of three, enlisting her sister Stephanie (Sweetin) and best friend Kimmy Gibbler (Barber) to help raise her family. All episodes premiere on Netflix on Friday, Feb. 26.
Watch:
Candace Cameron Bure Dishes New "Fuller House" Details