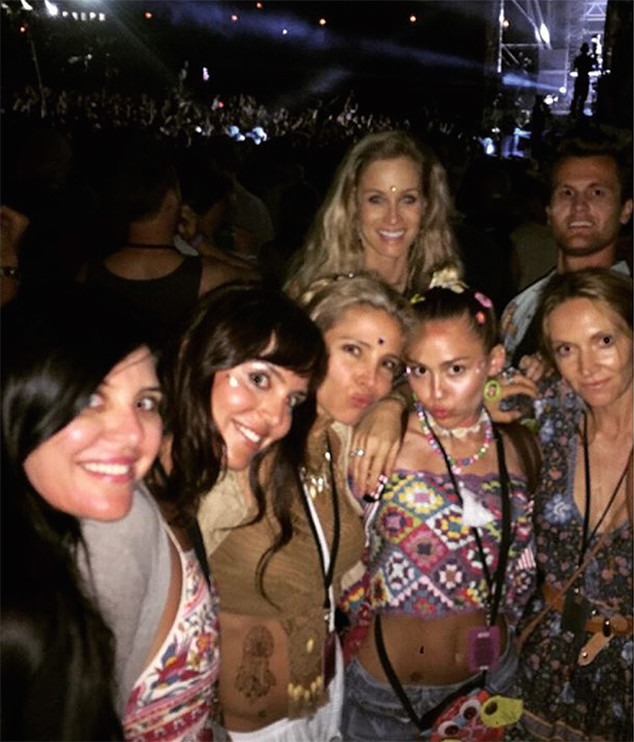 Instagram
It's like she never left.
Miley Cyrus kicked off the New Year Down Under, where she reunited with her former fiancé Liam Hemsworth and his family at the Falls Music Festival in Byron Bay. A source confirmed to E! News Sunday that Miley, 23, and Liam, 25, were seen "cuddling and kissing" at the concert, which they attended with the actor's brothers, Chris Hemsworth, 32, and Luke Hemsworth, 35, plus their wives, Elsa Pataky and Samantha Hemsworth. Another source described the exes as being "affectionate" in a VIP area: "Liam was seen rubbing Miley's back at one point."
Elsa posed for a picture with Miley, Samantha and a few other friends at the festival and shared it via Instagram Monday. "Me encanta la gente con la que me puedo volver loca./ I love people I can be crazy with!!" the Spanish star wrote in the caption. "@mileycyrus @martamilans @gisellamarengo #michele #samhemsworth @fallsfestival #bestfriends #fun #music #festival #falls."
The actress also gave her husband, Chris, a sweet kiss during the show. "Great night at the falls festival," she wrote in the Instagram caption. "Disclosure was amazing!" Liam, meanwhile, did not appear in any of his sister-in-law's photos.