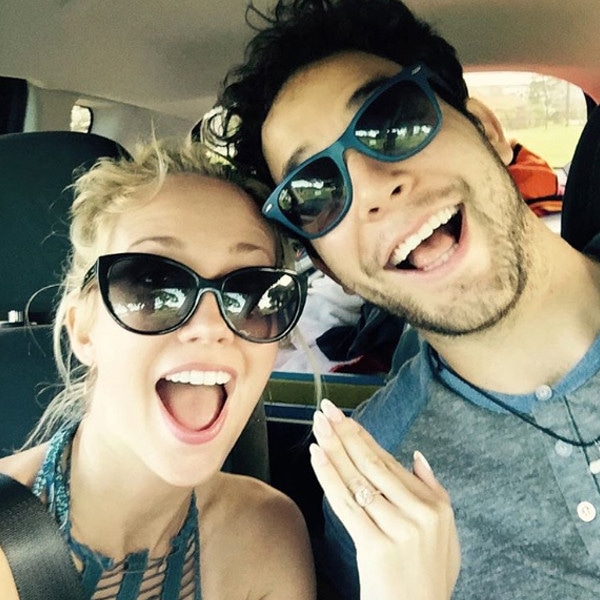 Instagram
Ringing in 2016 with some serious bling!
Anna Camp had a giant reason to smile this New Year after her longtime boyfriend Skylar Astin proposed to his Pitch Perfect co-star.
"I asked. She said yes!!!" Astin wrote on Instagram Saturday afternoon as his leading lady flashed a sparkling engagement ring. Camp replied, "He asked. I said YES!!!!"
While specific proposal details remain top-secret, social media photos show the couple was on vacation in Hawaii as they helped usher in a brand-new year and relationship status!
Evan Agostini/Invision/AP
Before Pitch Perfect 2 was released this past summer, E! News was able to catch up with the blond beauty who couldn't help but share how happy she was in the romance department.
"We're really best friends, so it's awesome," she told us. "He's definitely sweet like his character is."
And while the two didn't exactly share any big on-screen moments together because of their different characters, the co-stars were still able to have a pretty acca-awesome time while filming.
Watch:
Anna Camp Talks "Pitch Perfect" Romance
"The funny thing is, is that we never ever have any scenes together," she explained. "So, yeah, it was great. We had a great time when we saw each other on set. It was awesome."
As to how this romance blossomed into something more, it turns out timing really is everything. 
"We were friends first and just hit it off. He's just so great, and he's a Libra too," she previously told Glamour magazine. "He was dating somebody, and I had been through [a divorce] and he was like, 'Do you want to go on a date?' I remember thinking, Well, he's younger than me. He's five years younger. He's 26, and I'm 31. But I was like, 'You know what? OK! Let's do it, let's see.'"
And as they like to say, the rest is history! Congratulations you two on your engagement!