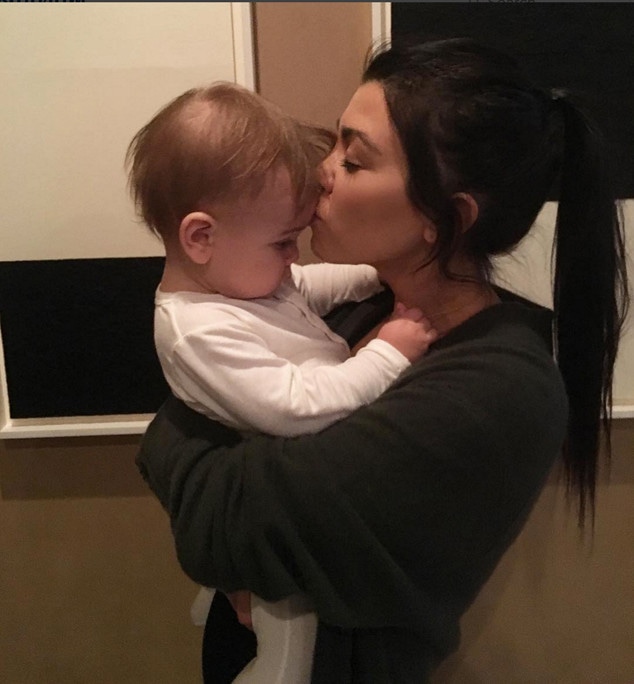 Instagram
Kourtney Kardashian star rang in 2016 in the cutest way.
The 36-year-old Keeping Up With the Kardashians star held and cuddled her littlest love, her 1-year-old son Reign Disick, at their home and gave the toddler a big kiss on the forehead, as seen in a photo posted on her Instagram page on New Year's Eve.
"My New Year's kiss..." she wrote.
Kourtney had under the weather earlier in the day, saying on Instagram, alongside a photo of mandarin oranges, "A little sick on NYE...so taking plenty of this, and a nap, before the pajama party begins."
Kourtney also celebrated the holiday with other family members, including sister Kim Kardashian, 35.
Meanwhile, Reign's father and Kourtney's ex, Scott Disick, 32, rang in the new year in Las Vegas. He had made a celebrity appearance at 1OAK, a nightclub that books him often.
Scott and Kourtney, who also share son Mason Disick, 6, and daughter Penelope Disick, 3, have been separated for more than five months.
Kourtney recently shared her New Year's resolutions with her fans. They include, "To continue to strengthen my relationship with Jesus" and "To refocus my priorities, making sure that 'me' is high on the list. (Children, God, me, family above all else…)."