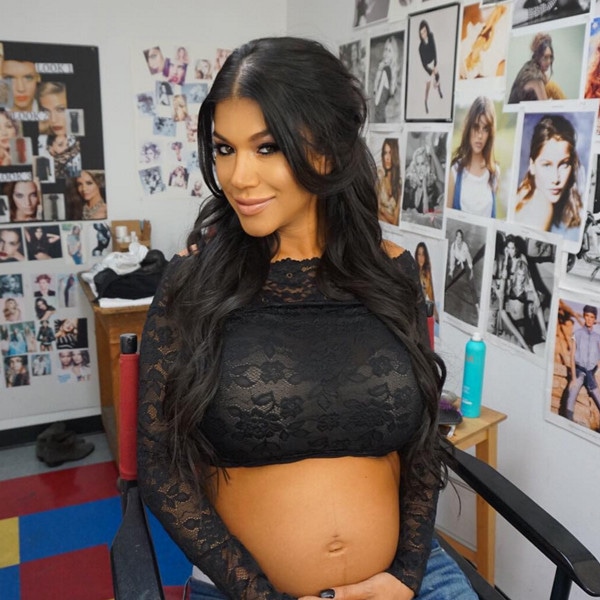 Instagram
Total Divas star Rosa Mendes is ready to meet her little diva.
The WWE wrestler and fiancé Bobby Schubenski will welcome their baby girl in February and the expectant mom is more than excited for the arrival of daughter Jordan Elizabeth Schubenski. With only two months left, Rosa reveals she's had the best time with her pregnancy.
"I'm actually one of the lucky ones," she tells E! News exclusively. "I've been feeling so good since my first trimester. I have three other friends who are pregnant too and they've just been having a really hard time and I feel so bad because I feel so great."
Rosa adds, "I'm staying active. I'm going to the gym three times a week, not doing strenuous exercise, but just staying active and feeling really, really good."
Just like mom, baby Jordan is also doing fabulous. "She's kicking so much!" Rosa gushes. "When I first felt her kick, it was little flutter movements. Now, I feel elbows and knees and it feels like she's really a baby in there. That's my favorite part about this pregnancy, just feeling her move."
Although her pregnancy has been a breeze, the brunette beauty confesses she experienced a few odd, late-night cravings. "I've craved peanut butter, pickles and bananas at night," she admits. "I literally wake up in the middle of the night, get a banana and eat it in bed. I wake up my fiancé and he's like, 'What are you doing?' It's so weird. I get up at 1 a.m. to grab a banana and then again at 6 a.m." LOL!
Nighttime snacking aside, the 36-year-old admits she's just extremely grateful for the two important people in her life. "I feel so lucky to have this beautiful miracle inside me right now," she says. "For three years, I was single and I never thought I would find love. But I met the love of my life, my dream man, and now I'm having a baby and my career is going great. It's on hold for a little bit, but everything is going so well."
Watch the season premiere of Total Divas Tuesday, Jan. 19 at 9 p.m., only on E!