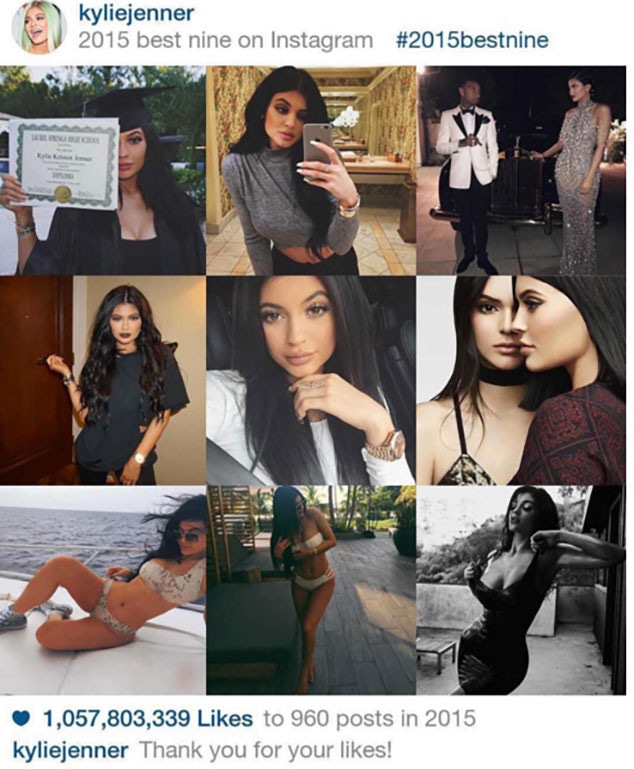 Instagram
Remember that time one of your Instagram photos received more than 100 likes and you felt like you were the most popular kid in school?
Prepare to have that feeling be crushed.
A website called 2015bestnine is allowing Instagram users to see their top nine photos—that is, which nine photos received the most likes on their profile. It pretty much goes without saying that each of the Kardashian-Jenner family members have accrued copious amounts of likes, but it turns out Kylie Jenner has beaten everyone out. Her top nine, which includes her graduation photo, a sexy wet bathing suit shot and couple's pic of her and Tyga, racked up more than 1 billion likes.
Unsurprisingly, Kim Kardashian came in a close second, receiving more than 875 million likes for her top nine photos, the majority of which included daughter North West. Khloe Kardashian came in third place, pulling in more than 506 million likes. Just like Kim, Khloe's most popular photos included the youngest family members: North and Penelope Disick.
Watch:
Kendall Jenner Gushes Over Victoria's Secret Debut
Even though Kendall Jenner accrued a meager 435 million, she did beat out everyone else on Instagram for the most liked photo of 2015. No, it wasn't one of her Victoria's Secret Fashon Show pictures; it was the photo of her lying down with her hair shaped into hearts. In the photo she's wearing a gorgeous lace dress, but it's the hair that has caught the attention of more than 3.2 million people.
That wasn't the only record Kendall broke. One of her throwback photos also managed to be the most liked #TBT of 2015. The picture that won it all showed her when she was just a little girl dressed as a "Gap baseball player."
"A great TBT shows an authentic glimpse into your life, and something adorable or funny always wins extra points," Kendall, 20, told Instagram's team.
Every single one of Kourtney Kardashian's top nine included one or more of her children, even Reign Disick! Still, Kourtney raised more than 313 million likes, which put her toward the bottom. But she still received more than Kris Jenner, who only received more than 113 million.
Make sure to watch Keeping Up With the Kardashians on Jan. 3 at 9 p.m. only on E!.