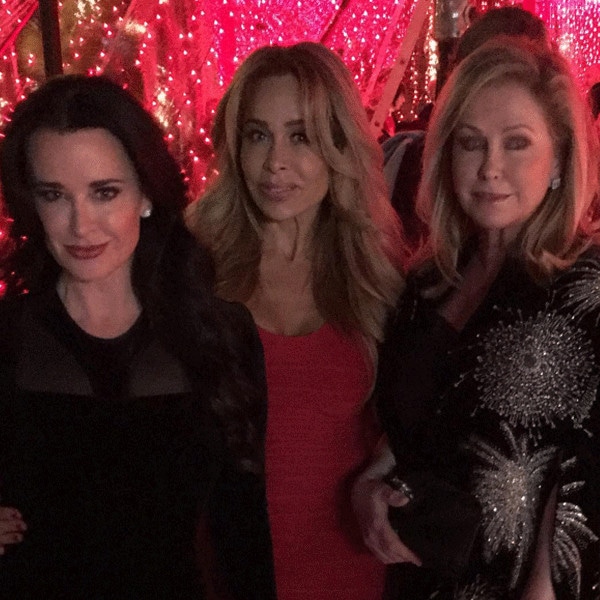 Instagram
They say a picture is worth a thousand words, and that's not even including family photos.
As Kris Jenner hosted her annual Christmas Eve extravaganza near Calabasas, fans couldn't help but notice two special guests in attendance.
Real Housewives of Beverly Hills star Kyle Richards was invited to the star-studded bash as well as her sister Kathy Hilton.
While some bystanders may see this as a family-friendly reunion, true fans know that the duo hasn't exactly seen eye-to-eye in recent months. So how did the Christmas party go? All appears to be calm and bright.
In an Instagram post, Kyle posed with her sister and close friend Faye Resnick. "'Twas the night before Christmas…" the caption read as the ladies sorta smiled for the camera. The Bravo reality star would later share a family photo with her four daughters and husband Mauricio Umansky.
 "Merry Christmas to you and yours," the post read before they mingled with guests including Drake, Hailey Baldwin, Harry Hudson, Caitlyn Jenner and other familiar faces.
As for the family drama between Kathy and Kyle, fans first got a sense of the tension this season on Real Housewives of Beverly Hills when Mauricio wasn't invited to Nicky Hilton's wedding. So what gives? E! News learned that there has been some issues between Kyle and Kathy's respective husbands.
"Rick and his team wouldn't make Mauricio a partner, even after years of working there and a lot of success. So he left," one source told E! News. "Now, Mauricio is not welcome at any Hilton events. It puts Kyle in a terrible position because she always has to choose between her husband and her older sister."
Another insider, however, said, " Mauricio went behind Rick's back when he started his business. Rick did everything for Mauricio to get him started, he gave him clients, he introduced him to people. And then when Mauricio set up his own company, he did it covertly and informed Rick via email."
So, does bad blood still remain? Something tells us we'll have to watch what happens!
(E! and Bravo are part of the NBCUniversal family)