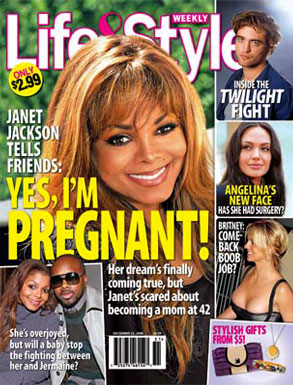 Life & Style
Everyone loves a good rivalry, especially when it involves someone famous.
In one corner: Life & Style, whose cover features Janet Jackson declaring, "Yes, I'm Pregnant."
In the other corner: Us Weekly has quotes from Jackson's boyfriend, Jermaine Dupri, denying any such bun in the oven.
This round of baby rumors kicked off in October when the pop star postponed tour dates due to migraine-associated vertigo. The buzz became deafening this weekend when PerezHilton.com reported the gestation in progress.