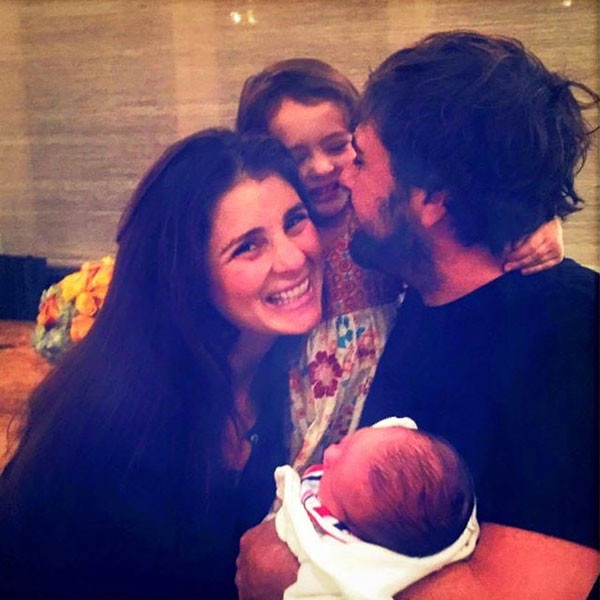 Facebook
Break out the blue, because it's a boy for Shiri Appleby!
The actress and her fiancé, restaurateur Jon Shook, welcomed their second child, a son, nearly a week ago, and he has already made his social media debut. Appleby took to Twitter and Facebook to share a sweet snapshot of the family all smiles and laughing while holding the new bundle of joy.
"Glad to welcome home Owen Lee Shook. #5daysold #alreadycrackingjokes #1800gotaboy," Appleby captioned the picture, which shows Shook cradling his son while Appleby smiles at the camera, and their 2-year-old daughter Natalie Bouader Shook gazing at her baby brother.
"Our daughter, Natalie, is really excited," Appleby told E! News back in September. "We've been reading a lot of the books to try to explain what's going on and I'm kind of just hitting that nesting phase where I'm like 'OK, we need to make room, let's clean out the drawers, the playroom' It's just really exciting. It's a really exciting time for us."
She continued, "I think it's just easier in the sense that it doesn't feel as unknown, as foreign. You kind of know what you're getting into. Of course, the other question is 'How do you have two and juggle it and manage it?' but millions of people have done it before us so I feel like we'll figure it out. But I think it's just a lot more excitement as opposed to nerves." 
Additionally, walking down the aisle with Shook will be that much more special. "Now we're kind of excited…when we get married our family will be there. Our kids will be a part of it. We have made a list, we're going to get married soon," she insisted after laughing off how her pregnancies have put the wedding on hold. "I'm going to go back to work and do the second season of unREAL in March, the baby will be here at the end of the year. And sometime shortly after it wraps, we can wrap up that."