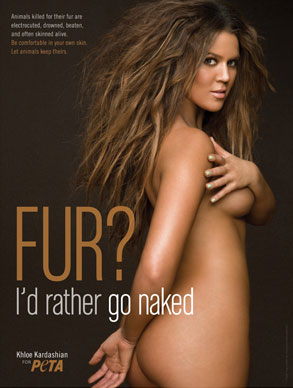 Troy Jensen
The fur is flying over at the Kardashians' place.
"Everyone in the family wears fur except me," Khloe Kardashian said at today's L.A. billboard unveiling of her new butt-baring campaign for People for the Ethical Treatment of Animals.
The ad features the E! reality star in her birthday suit with PETA's iconic tagline, "Fur? I'd Rather Go Naked."
Khloé said she's been working on the entire clan to convince them to stop wearing fur, but admits Kim will be the toughest to break. "Kim wore fur last night," Khloé said. "I told her you cannot wear fur. It's embarrassing."
Even so, Kim was on hand at the unveiling along with mom Kris Jenner and siblings Kourtney and Rob.
"This is a cause really close to her heart," Kim said. "She's done an amazing job."
Now, we can't help but think about other reality stars in states of undress. We're sure you have some in mind, too.
—Additional reporting by Dahvi Shira