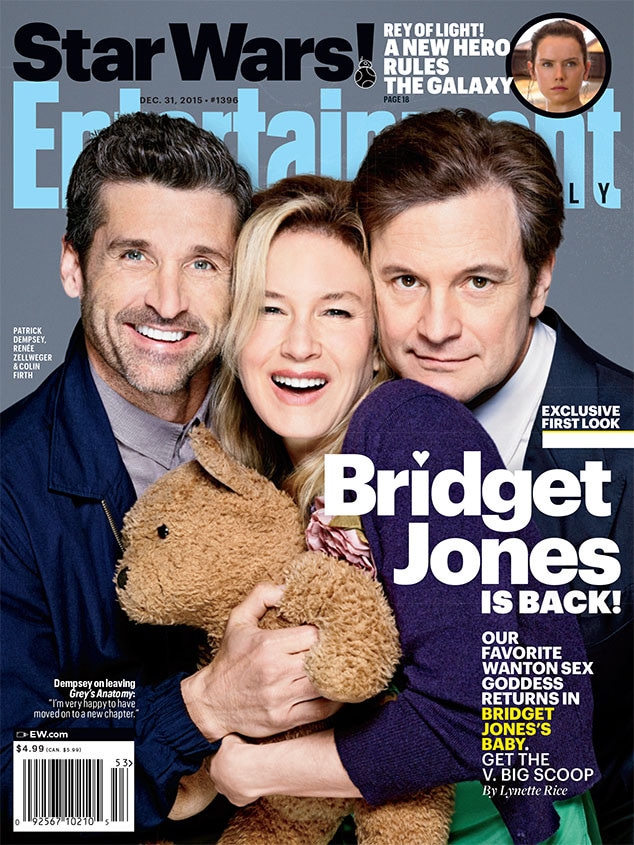 Entertainment Weekly
Bridget Jones is finally back!
Renee Zellweger reprises her role as everyone's favorite usually-single gal in Bridget Jones's Baby. Some things are the same (she's still single) but others are completely new (she's pregnant), but as Renee tells Entertainment Weekly,  "It's so right to tell a story about Bridget in this stage of her life."
The actress graces the cover of the mag's latest issue (on stands Monday) sandwiched between Mark Darcy (Colin Firth) and "a hot new billionaire named Jack Qwant" (played by Patrick Dempsey). We know, at this point, Bridget is expecting a baby, but per Entertainment Weekly, she doesn't even know who the father is!
"This is part of the new challenge, discovering where she is now in her new life," says Renee. "But as an actress, it feels like stepping back with an old friend. I love this character, I like that she tells stories about what it's like to be a woman and these really relatable situations at certain times in life."
Bridget Jones's Baby will be not be based on the novel Mad About the Boy, the third novel in the Bridget Jones book series. The plot will instead be inspired by columns written by author Helen Fielding. Daniel Cleaver (Hugh Grant) will not be part of the film. As he told The Independent, "I do think that if it was just me and a girl batting our eyelids at each other in a full-out romantic comedy, I would look a little sinister and weird at the age of 54."
Nonsense, but oh well! Bridget Jones's Baby hits theaters Sept. 16, 2016. For more from Renee on the upcoming film, pick up Entertainment Weekly on stands Monday.
Watch:
Renee Zellweger Talks "Bridget Jones 3"