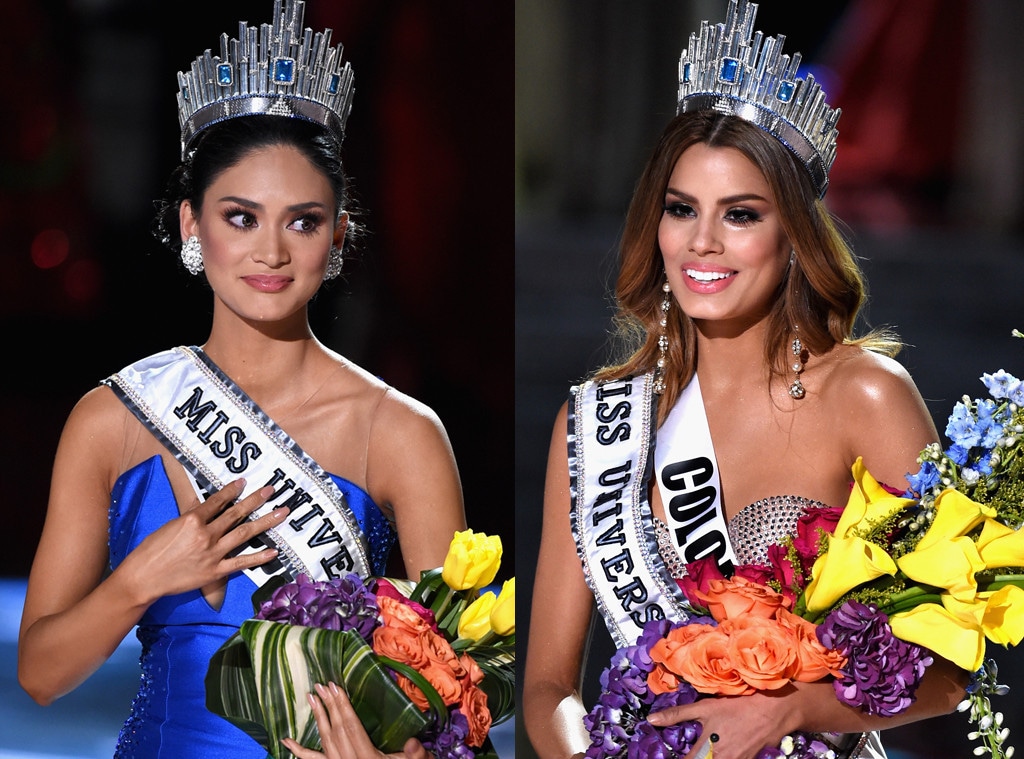 Getty Images
What in the world just happened?! 
That's what everyone and anyone was thinking Sunday night after watching the dramatic—and we really mean dramatic—final moments of Miss Universe 2015.
At first, host Steve Harvey made it perfectly clear that Miss Colombia Ariadna Gutiérrez was the winner. There were hugs, cheers, flowers, a standing ovation and everything you'd expect from such a happy moment. Things quickly took a turn, however, when Steve had another announcement.
"Okay folks, I have to apologize. The first runner-up is Colombia," he explained as the camera panned to finalists Miss USA and Miss Philippines. In other words, Miss Universe 2015 is actually Miss Philippines Pia Alonzo Wurtzbach!
Yes, it was awkward. Yes, the camera crews, audience and host didn't know what to do. And somehow the show went on. 
"Listen folks, let me just take control of this. This is exactly what's on the card," Harvey shared while holding up the results. "I will take responsibility for this. It was my mistake. It was on the card. Horrible mistake. It is my mistake."
He continued while trying to hold back tears, "Please don't hold it against the ladies. We feel so badly but it's been a great night." 
Great night? More like unforgettable night.
Luckily for event organizers, some things went on as planned. The final 15 contestants paraded around in bikinis while Charlie Puth performed his hits including "Marvin Gaye."
The final five contenders were asked about some serious issues facing the world. In fact, Miss USA was asked about gun control, but couldn't finish her answer before the time ran out.
Regardless of the gowns, swimsuits, Q&A and performances, the public will likely be talking about Harvey's mistake that he continues to feel awful about. 
"I'd like to apologize wholeheartedly to Miss Colombia & Miss Philippines for my huge mistake. I feel terrible," the Family Feud host posted on Twitter shortly after the show. "Secondly, I'd like to apologize to the viewers at that I disappointed as well. Again it was an honest mistake. I don't want to take away from this amazing night and pageant. As well as the wonderful contestants. They were all amazing."