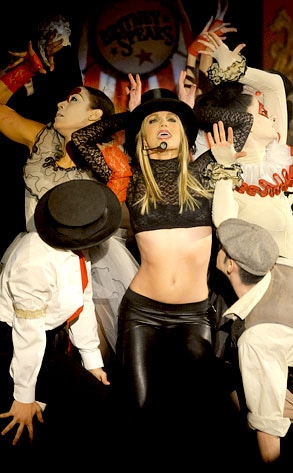 Jennifer Graylock / E! Networks
Britney Spears is back at No. 1.
For the first time in more than five years, the "Womanizer" warbler topped the Billboard 200. Her new Circus sold a blistering 505,000 copies last week, according to figures released today.
This makes Spears the first artist to have four albums debut with 500,000-plus copies in the SoundScan era, which began in 1991. Her Circus sales top debut weeks by Mariah Carey, Miley Cyrus, Madonna, Janet Jackson and Beyoncé and only trailing Taylor Swift for top-selling female debut of 2008, and seventh-biggest bow of the year overall.
Spears now ranks fifth among female artists for the most No. 1 albums, with her five chart-toppers trailing only Barbra Streisand (eight), Madonna (seven), and Carey and Janet Jackson (six apiece).
Back in October, Britney set the stage for her comeback when "Womanizer" became her first No. 1 single since "...Baby One More Time" a decade ago. "Womanizer" also set the record for the biggest digital sales debut by a female artist (286,000 copies) since Nielsen SoundScan started tracking downloads in 2003.
"Imagine a year ago—did anyone think that today she would be able to come out with an album that would not only just debut at No. 1 but also do half a million copies in its first week?" asks Billboard Senior Chart Manager Keith Caulfield. "It's surprising, but at the same time it's got to be pretty satisfying for Britney and for her record label."
And it's not just album and song sales soaring, because, according to her website, "This tour is selling out like hot cakes! In response to overwhelming ticket sales, we have several more dates in cities including Los Angeles, London, Chicago, Toronto and Newark!"
So expect the circus to be coming to your town soon.
In other chart news, Akon's Freedom debuted at No. 7 with 110,000, about half the first-week sales of his multiplatinum 2006 smash, Konvicted.
The week's only other notable debuts were Scarface's Emeritus at No. 24, Neil Young's live Sugar Mountain—Live at Canterbury House 1968 at No. 40 and the Cadillac Records soundtrack at No. 66.
Despite the big week for Spears, post-Thanksgiving sales were slow overall. Numbers were down 7 percent from last week and off a gloomy 37 percent compared to the same period in 2007.
Here's a rundon of the top 10 albums for the week ended Sunday, per Nielsen SoundScan:
1. Circus, Britney Spears
2. Fearless, Taylor Swift
3. I Am...Sasha Fierce, Beyoncé
4. 808s & Heartbreak, Kanye West
5. Dark Horse, Nickelback
6. Twilight soundtrack, various
7. Freedom, Akon
8. High School Musical 3 soundtrack, various
9. Now That's What I Call Music! 29, various
10. David Cook, David Cook
(Originally published Dec. 9, 2008, at 9:55 p.m. P.T.)