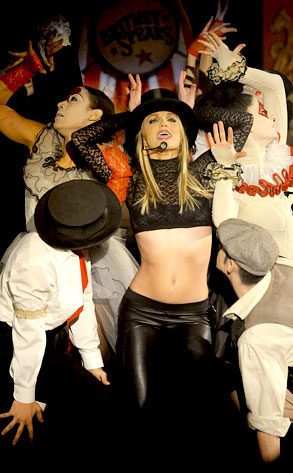 Jennifer Graylock / E! Networks
Britney Spears is back at No. 1.
For the first time in more than five years, the "Womanizer" warbler topped the Billboard 200. Her new Circus sold a blistering 505,000 copies last week, according to figures released today.
This makes Spears the first artist to have four albums debut with 500,000-plus copies in the SoundScan era, which began in 1991. Her Circus sales top debut weeks by Mariah Carey, Miley Cyrus, Madonna, Janet Jackson and Beyoncé and only trailing Taylor Swift for top-selling female debut of 2008, and seventh-biggest bow of the year overall.
Spears now ranks fifth among female artists for the most No. 1 albums, with her five chart-toppers trailing only Barbra Streisand (eight), Madonna (seven), and Carey and Janet Jackson (six apiece).