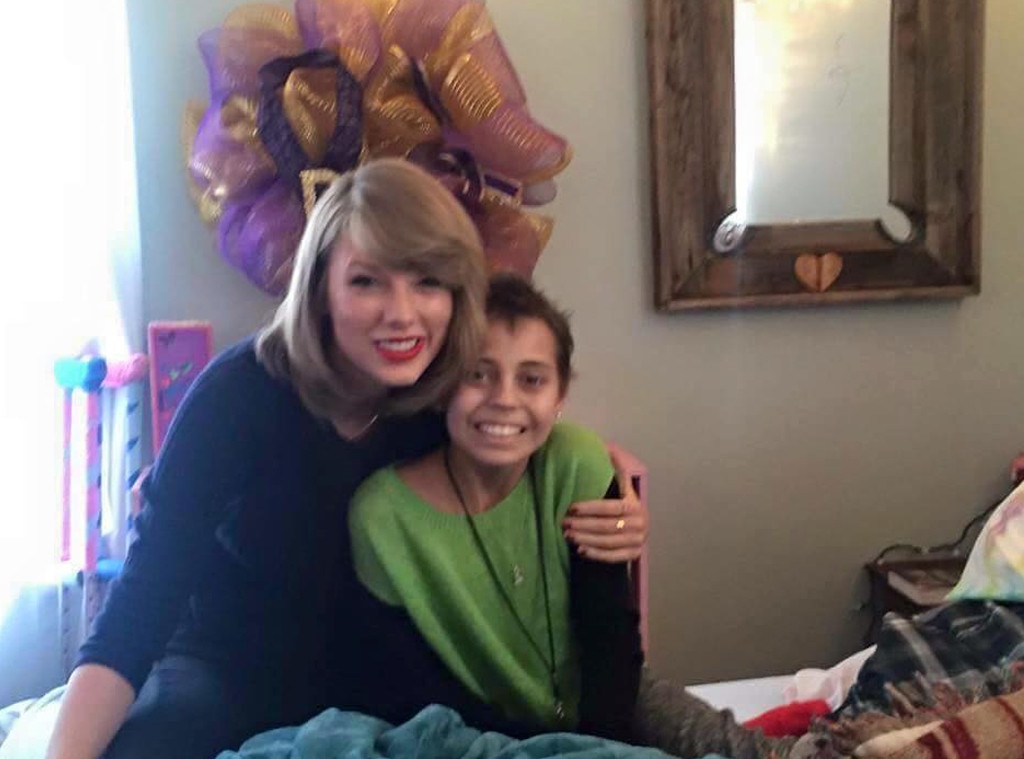 Facebook
Taylor Swift, you've done it again!
Less than a week before Christmas Day, the "Shake It Off" singer decided to spread some holiday cheer. No, we're not talking about Sunday's release of the 1989 World Tour Live on Apple Music. Instead, this story of kindness involves one cancer patient who has proven to be a true Swiftie.
While traveling home for the holidays, Swift made it a priority to surprise Delaney Clements with little to no warning. 
"Literally speechless right now!!!!! My new best friend (as I call her now ) made a special stop from going home to Tennessee and surprised me and gave me the best present/ hugg ever!!" Delaney wrote on Instagram Saturday afternoon while posing for a picture. "Thank you !! I love you!! Happy holidays!!"
 Swift added, "Merry Christmas Baby @delaneyy.bugg."
Ever since being diagnosed with neuroblastoma in 2010, Delaney has developed quite the following on social media. In fact, thousands shared #DelaneyMeetTaylor on Twitter to grab the Grammy winner's attention.
Unfortunately, Delaney's mom Wendy Campbell delivered a somber update earlier this month where she told followers that hospice care was imminent.
"We are so blessed to be surrounded with so many wonderful people who love and care for us and forever grateful for all the support we have received over the past five years," she shared on Facebook. "Our goal now is to keep Delaney as comfortable as possible and keep her spirits uplifted as she travels on a journey we fought so hard to avoid."
Luckily, Delaney's fight got a huge morale booster when her favorite singer spent some quality time at what appears to be the family's home in Colorado.
Whether posing for selfies or simply enjoying some girl chat, Delaney's smile proves this pit stop was absolutely worth it.
"So happy for my baby girl," Wendy wrote on Facebook after the encounter. "Thank you Taylor Swift for the best Christmas present ever."
This story is part of NBCU's Season of Kindness. Follow the series on Facebook, Twitter and Instagram. #ShareKindness
Watch:
Top 9 Taylor Swift Music Videos