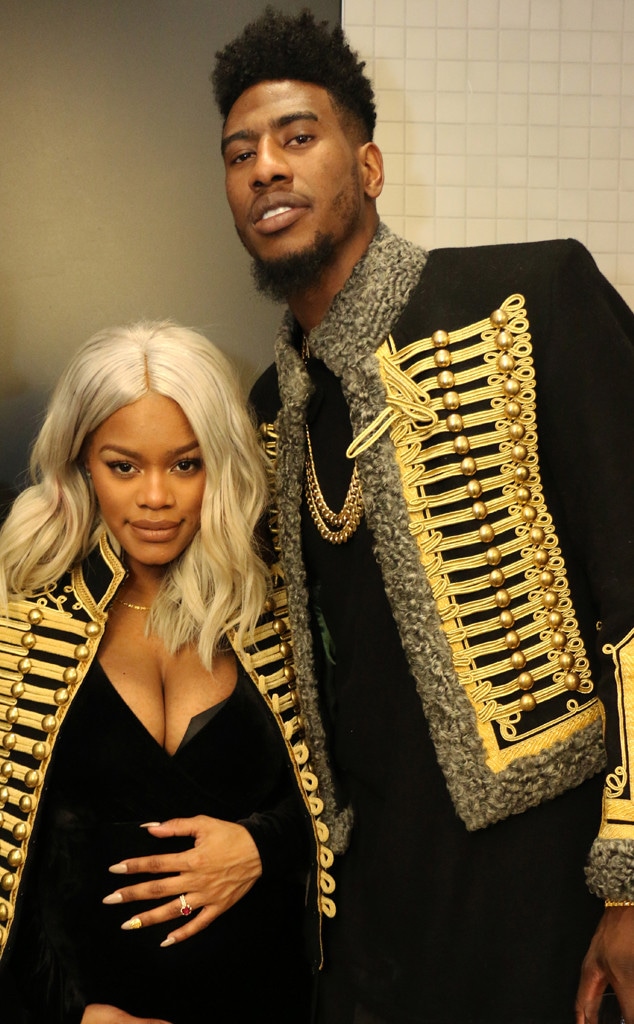 AKM-GSI
Teyana Taylor has given birth to a little baby girl!
E! News can confirm the singer welcomed her first child with Iman Shumpert into the world on Wednesday, Dec. 16. A source tells us, "She was born extremely healthy and absolutely beautiful, coming in at 35 weeks and 4 days, weighing 6lbs. 7oz. and 19.5 inches."
The couple originally planned for the child, Iman Tayla Shumpert Jr.,  to be born on Jan. 16, 2016, but it appears she's made an early and very dramatic entrance as Teyana also took to Instagram to share the story of her daughter's incredible birth.
"On Dec 16th at 6:42am in our bathroom Junie decided she wanted to take her first breath into this world," Teyana wrote beside a photo of her baby girl. "She came out as a wonderful surprise to everyone! Not knowing I was in labor until I felt her head...it took two ten count pushes with my fiancé playing Dr and she entered this world into his bare hands!"
She continues, "Eyes full of tears and barely able to speak to the emergency operator @imanshumpert tied a pair of red headphones around the umbilical cord and the ambulance made there grand entrance 5 min later. She opened her eyes right away, gazed into mine and never cried! He handed her to me wrapped in our bath towel and wiped her face for me to see what LOVE really is.
She has blown Christmas away! Our family is complete. Her blueprint will be unmatched. Welcome Iman Tayla Shumpert Jr. Mommy carried you. Daddy delivered you. #MeetTheParents we love you baby girl."
Shumpert originally announced Taylor's pregnancy in September, sharing a photo of a sonogram on Instagram.
"When a man loves a woman how she was born to be loved...procreation is the best blessing you can receive!" he wrote. "I couldn't be more happy than to share my first child with the woman I intended to have my family with."
The rumors swirled for quite a bit that Teyana was expecting, but the Cleveland Cavaliers star explained why they decided to wait on letting fans know.
"We want that world to be as pure as possible for her," Shumpert continued. "We people, show the world what we feel the world should see when we want them to see it...something this beautiful had to be announced when we were ready for everyone to know...this is what happiness grows into! I love you @teyanataylor thank you for your sacrifice in starting our very own family!"
The duo got engaged shortly after their pregnancy announcement. Shumpert proposed during their baby shower in November.
Congrats to the couple and their family-of-three!