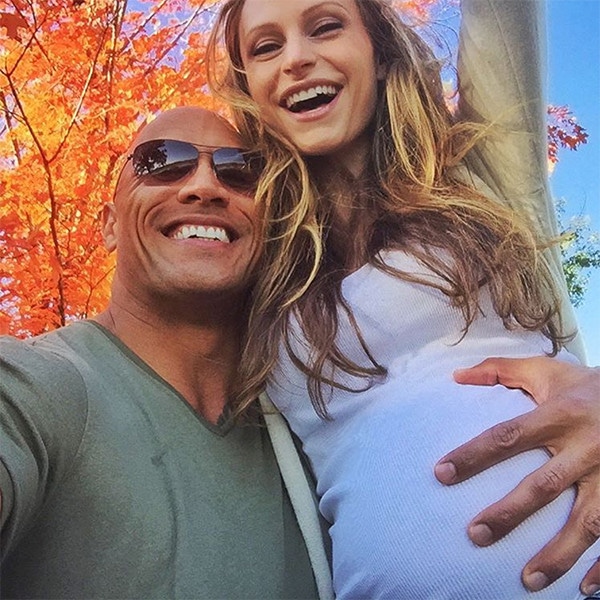 Instagram
Dwayne "The Rock" Johnson is now officially a father of two!
The 43-year-old wrestler-turned-actor's girlfriend Lauren Hashian gave birth to a healthy baby girl on Wednesday, sources confirm to E! News exclusively. This is the first child for the couple together and the second for Dwayne, who has a 14-year-old daughter named Simone with ex-wife Dany Garcia.
Dwayne was very emotional and excited seeing his newborn daughter for the first time, says an insider, adding that the proud dad is thrilled for mom and baby to both be doing so well. Both parents are said to be beyond happy for this next chapter in their lives.
Lauren, a singer-songwriter, opened up about her impending motherhood in an Instagram post over the weekend. "So grateful and in awe of this time. To experience creating a little life is just incredible," she wrote. "This beautiful cycle of life and womanhood beginning again. And like Big Daddy says - Couldn't be prouder of all the kickass women she's going to have around her! And Men of course ;)..."
She also added, quite comically in hashtag form, "Let's just hope big daddy doesn't equal 20 pound baby!"
Ha, we hope not, too, for mama's sake. Really, though, Lauren and Dwayne couldn't be any happier together. The Rock couldn't help but gush over his longtime love in an interview with Esquire published this summer. "I've lived with my longtime girlfriend, Lauren Hashian, going on, like, eight, nine years now," he said. "We spend a lot of time with my daughter in Florida, Simone...We do these stories and we talk so much about the business end, the success end, but then Lauren isn't mentioned and my daughter isn't mentioned. I always like making sure we find the balance and my home life is in there and Lauren Hashian is in there and my daughter is in there.
"You gotta get the better half in there," he went on. "With all the cool s--t and success that I've been lucky enough to get? That doesn't happen unless the home life is solid."
Sounds like he's got his priorities straight. Congratulations again to Dwayne and his family on their new addition!
In the clip below, The Rock is reduced to tears when talking about his love for his daughter Simone.