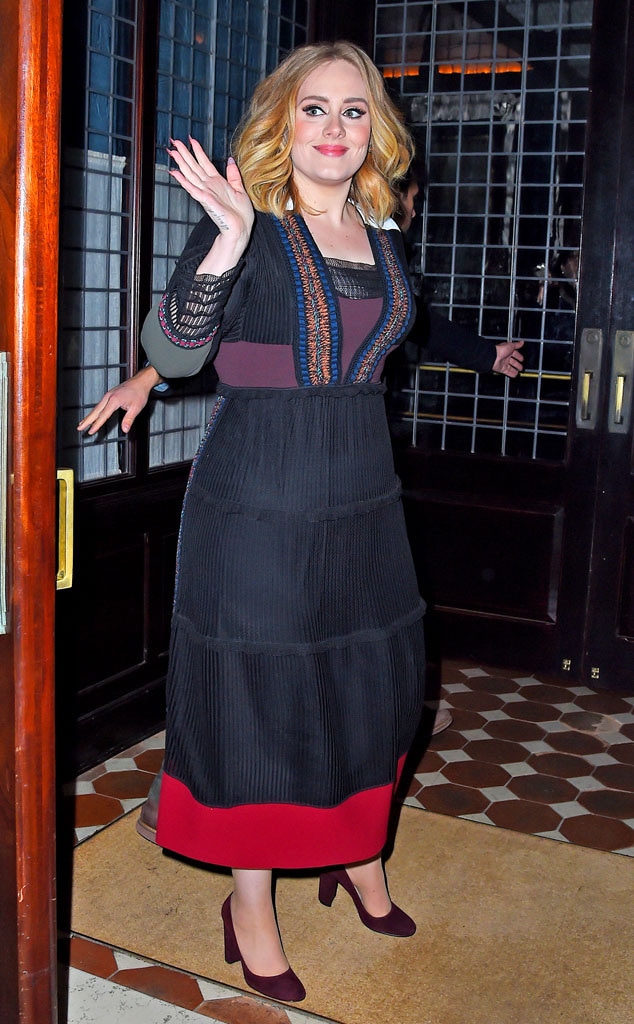 NCP/Star Max/GC Images
One of the most famous singers in the world is a salty-tongued lass who likes nothing better than to lounge at home and watch soccer matches while drinking a glass of Sauvignon blanc.
But that's not the Adele we've been exposed to over the past few weeks. Instead, we've found ourselves caught up in a tornado of Adele-mania, her hit single "Hello" on repeat everywhere we turn and her album 25 the best-selling LP of 2015 after dropping less than a month ago.
That kind of fame and attention…it can get to people. So you'd be forgiven for thinking the Londoner would be on the fast track to becoming one of the biggest divas in the music industry. After all, she's one of the proud-and-few celebrities to be known by only her first name.
But despite the global fame and the royal seal of approval (the queen made her a MBE in 2013), Adele couldn't be any more like you and me.
E! News has delved into her private world to figure out just why we have fallen in love with the ordinary girl behind the extraordinary voice:
1. She's Got Pots of Cash but Doesn't Flaunt It
Let's first address the elephant in the room because we can't ignore the glaringly obvious difference between Adele and us. She's amassed a huge fortune, and it's growing by the day. The cash has afforded the 27-year-old some luxuries, including the ability to buy up some pretty impressive homes. One source claims she currently has two in London, one by the sea in Brighton and yet another that she frequents in Sussex. On top of that, there are those rumors that she snapped up a $5 million pad in Malibu.
Let's just say, she's rolling in it.
With the posh addresses, she's acquired some pretty interesting neighbors too. In Brighton, she could borrow a cup of sugar from Fat Boy Slim if she wanted. And at the 10-plus bedroom country estate she spends time at, she's a stone's throw from Saint Hill Manor, the British headquarters of the Church of Scientology.
Despite a property portfolio that would put a Kardashian to shame, Adele chooses to spend the majority of her time in her smallest digs, a petit mews house in the center of London. "It's by far the smallest of all her properties," says a source. "It's cute and down a cobbled private little street. She seems to love it there so much. It's much more in line with the size of home she grew up in."
MachettePix/startraksphoto.com
A sprawling estate and a mews house are a world away from the life Adele was used to as a teenager. Then she lived in an apartment located above a south London bargain shop. It's no wonder she feels most at home in her small cottage.
Her only other "big" purchase: her very own Mini Cooper. Rather than travel around in limousines, she opts to jet around the city in her little car.
We also rarely see Adele shopping at the high-end designer stores, arms laden with bags, like some of her contemporaries. Instead, says a source, "She has stylists that come to her house from time to time. They will arrive with big black garment bags—but that's only for when she has a special occasion she is attending. For the most part she is happiest when she is in pants and a sweater. She is not the kind of girl that wants to flaunt labels all the time. It's not what's important to her."
Richard Young/Rex/REX USA
2. She's Confident in Her Relationship
Adele met her long-term boyfriend, investment banker turned philanthropist Simon Konecki, back in 2011. Three years ago they welcomed a son together, sweet Angelo.
Adele describes Simon as her "soul mate," and yet the pair is constantly plagued by rumors about their relationship status. Depending on what time of day you check social media, you might discover that they are secretly married or even have secretly split.
There is some logic behind the constant talk. While the couple is evidently completely in love, some might view their relationship as unconventional at times. But they have their reasons! As one source explains, "Simon spends a lot of his time hanging out at the Sussex home, while Adele prefers to be in London. So from time to time they do go through periods of not seeing each other every day. Simon has a business to run, and Adele obviously has a ridiculously full schedule at times, so they have time apart but then come together as a family.
"It's nice that they are able to have independence. They don't live in each other's pockets."
And their modern arrangement is obviously working. Adele told Rolling Stone that Simon, who used to be called "Swampy" by his friends, is a partner in every sense of the word: "He's so supportive. And that takes a very big man, because I'm very successful at what I do. My last boyfriend was uncomfortable with how successful I was, and the fact that he had to share me with lots of people."
Douglas Gorenstein/NBC/NBCU Photo Bank via Getty Images
3. She's Happiest Doing Normal Stuff With Her Kid
Becoming a mum to Angelo (or Peanut, as she has been known to call him) changed Adele's life. As she explained to RS last month, "When I had him, it made everything all right, and I trusted everything because the world had given me this miracle, you know, so I became a bit of a hippie, an Earth mother."
"She's just like any other normal London mom," says our source. "She likes just hanging out with the other moms and being laid back and giving Angelo all the attention he needs. She often goes to Battersea Park and takes Angelo to the petting zoo. Or she will push him on the swings and play with him. They will sometimes get ice cream if it's warm weather. She lives a very low-key life, you would never know from seeing her that she's one of the biggest superstars in the world."
When she's not on mommy duty, you can often see Adele shopping at her local supermarket or the Chelsea Farmers Market, an organic spot just off the Kings Road (one of Kate Middleton's favorite shopping destinations).
But becoming a global superstar of course means the artist has had to make some necessary adjustments to her life.
4. She Cheats When She's on a Diet
We are constantly fed (pardon the pun) pictures of celebs doing their daily workouts and following their holier-than-thou diet plans, which can make us feel a bit guilty as we bite into our morning blueberry muffin.
Sure, we all want to eat clean, sometimes, but can't we have a glass of wine every so often, too? Absolutely yes, according to Adele. It's all about balance.
Although she's recently been cutting back on sugar and hitting the gym, she's realistic about her goals.
And while we know she frequents an upmarket gym in London, she doesn't put too much pressure on herself. "I mainly moan," she told RS. "I'm not, like, skipping to the f--king gym. I don't enjoy it. I do like doing weights. I don't like looking in the mirror [while working out]."
And she understands the importance of cheat days! She seems to have a weak spot for Japanese cuisine and one of her favorite spots in London is Nobu.
Douglas Gorenstein/NBC/NBCU Photo Bank via Getty Images
5. Her Squad Goals Are Attainable (Except for the Jennifer Lawrence Part, That Is)

Adele is still besties with her school friends. They have been by her side through the ups and downs of life since her pre-fame days and know who she is deep down inside.
Says a source: "They will visit her at her house and she will do play dates with friends, too. I rarely see her with other famous people, she seems happier hanging out with people who have known her since before she hit the big time."
Not that Adele hasn't acquired a few new friends more recently, including ones who can't just pop over any time without causing a stir. According to one source, Adele and Jennifer Lawrence, the squad envy of many, have become good pals. They also made for an impressive trio when Emma Stone joined them on a girls' night out in New York recently.
And then there is her best friend, her mom, Penny. Penny was just 18 when she had Adele and as a result the two women have a unique bond. "We always spoke about anything," she told Rolling Stone. "There was never anything I was embarrassed about with my mom, which I think is the reason I never rebelled."
Sascha Steinbach/Getty Images
6. She Doesn't Take Herself Too Seriously
Despite becoming the most successful singer of our generation, Adele doesn't take herself too seriously.
As she has famously said: "My career's not my life. It's my hobby."
"From what I've witnessed, she seems determined to keep Adele the singer and Adele the friend and mother and partner as two separate entities," says one insider.
She has admitted that the untimely death of Amy Winehouse at 27—Adele's age now—is a cautionary tale that has stuck with her, influencing her current perspective on fame and living a balanced life.
Of ending up on a destructive path as Amy did, "I'm really frightened of it," Adele told RS. "I think it's really toxic, and I think it's really easy to be dragged into it."
Adele might be the most famous entertainer on the planet right now, but she's arguably become the most likable one as well. Her epic success in the final months of 2015, after years away from the spotlight, has made her more determined than ever to keep her feet on the ground.
We've gotten used to seeing every aspect of a celebrity's life through their social media, but Adele has gone the opposite route, sending only a handful of tweets in the first half of the year.
That of course has made what we do get to see of her extra special. She's not over-exposed, she's not pretending to be something she's not, she's not perfect and she doesn't try to hide her flaws.
Instead, she's a down-to-earth girl who sets a great example, staying confident and independent while being committed to her relationship, loyal to her friends and devoted to her family no matter what. Adele has stayed true to herself through good times and bad—and we can't sing her praises enough.