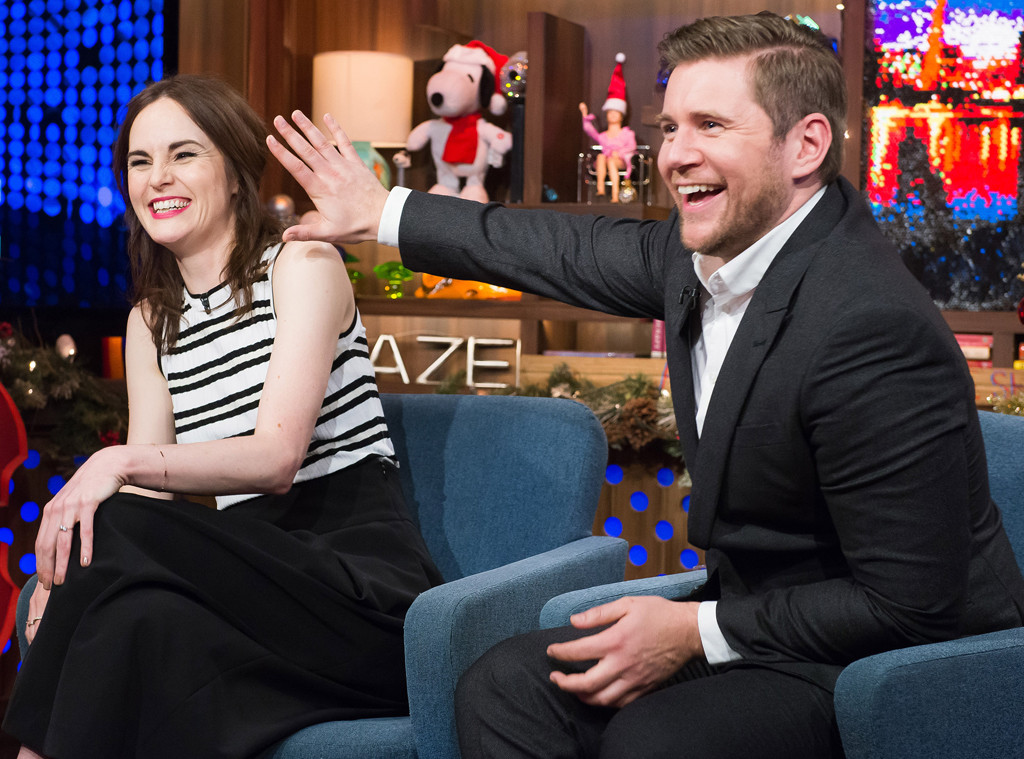 Bravo
Downton Abbey has never been one to shy away from melodrama and it seems its series finale will be no different. Allen Leech, Tom Branson on the crossover hit period drama, stopped by Bravo's Watch What Happens Live alongside Lady Mary herself, Michelle Dockery, and spilled some beans about Branson's ending.
"I would have liked to have seen a slightly different end, and you'll only know what that is when the final episode airs and I think a lot of fans will agree, but I can't really say more than that," Leech admitted to host Andy Cohen.
But don't worry, Branson didn't die. "I wish!" Leech said when Cohen suggested that. Or did he die and he's throwing everybody for a loop?
The Downton stars were in rare form on Watch What Happens Live, sharing quite a bit of scoop, like Dame Maggie Smith had people sneak her tea on set after the hot beverage was banned from Highclere Castle, the estate used for Downton Abbey. Both Dockery and Leech had their significant others killed off and Dockery admitted she was a little pissed off at Dan Stevens for departing the season. Just at first though, they're all good now (as you can see in this reunion photo).
"But then, quickly I realized it did such great things for the story. I mean, I was just heartbroken that he was going. I don't really know what else could have happened," Dockery said. "They would have just had more kids and maybe Mary would have had an affair or something."
On the other hand, Leech said he had a selfish reaction. "With [Jessica Brown Findlay], we were sad she was going, but as an actor and selfish person, I was like, 'Yes, crying scenes!' Bye Jess!"
Downton Abbey's sixth and final season, which has already aired in the UK, kicks off in the US on Sunday, Jan. 3. The series final airs Christmas Day overseas and in the States on Sunday, March 6. Want to know Lady Mary's Real Housewives tagline? Check it out above.
Downton Abbey airs Sundays, 9 p.m. on PBS. Watch What Happens Live airs Sunday-Thursday on Bravo.
(E! and Bravo are both part of the NBCUniversal family.)
Related:
Brendan Coyle on the End of "Downton Abbey"