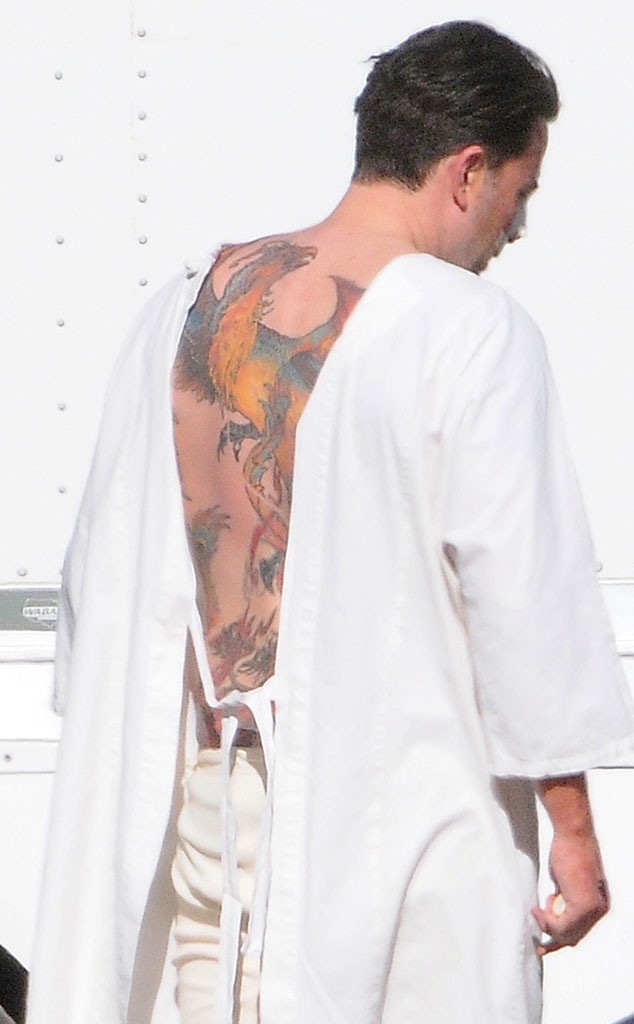 Vasquez/Dunkin D/FAMEFLYNET PICTURES
Who knew Ben Affleck was about that life?
While shooting for his film Live By Night in Los Angeles earlier this week, the bruised and beat up actor gave fans the first full glimpse of a gigantic ink piece on his back of a multi-colored phoenix rising. And although it was unclear at the time whether or not it was real (and let's be honest, it would be much more believable to think it was just a faux tat for his character), E! News learns it's all real.
A source tells us that the back tattoo is "not new," which further explains the sneak peek of some body art we saw back in July.
Bruce/Javiles/FAMEFLYNET PICTURES
The colorful mythological bird symbolizes rebirth and rising from the ashes, which means Affleck may or may not have been inspired to get the tattoo after his highly publicized split from longtime love Jennifer Garner.
His latest ink is definitely attention-grabbing and eyebrow-raising, but it's not the only tattoo on Ben's bod. The celeb also has several other (real) tattoos, such as barbed wire across his right bicep, a large design featuring a fish and a skull and crossbones on his right arm, some initials inscribed on his shoulder blade, and a dolphin on his right hip covering up the name of his high-school sweetheart.
Affleck and Garner announced their divorce the day after their 10th wedding anniversary back in June. They're parents to children Violet, 9, Seraphina, 6, and Samuel, 3. "We go forward with love and friendship for one another and a commitment to co-parenting our children whose privacy we ask to be respected during this difficult time," the exes said in a joint statement.
Rumors quickly surfaced that Ben's alleged infidelity (which he adamantly denied) with the kids' former nanny led to his split with Jennifer. Sources told E! News there was, indeed, "a lot of tension" between Jen and Ben for a while, "but it wasn't all about the nanny."
Vasquez/Dunkin D/FAMEFLYNET PICTURES
Watch:
Does Christian Bale Like Ben Affleck as Batman?