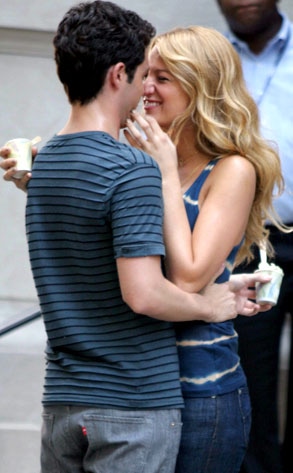 INFdaily.com
Meow! Don't tell Serena, but it looks like Gossip Girl's Dan Humphrey is getting a cougar for Christmas.
The good news? She's really only 25.  
The badass news? She'll be digging her claws into Blair.
Yes, inside sources tell me exclusively that Dan (Penn Badgley) is getting a new love interest of a more mature (and scandalous) nature. Plus, I also have the exclusive scoop on how House will make you cry, why clones are coming to One Tree Hill and what appears to be a new ER coupling—in real life.
Oh, and perhaps you'd like to know which star is holding out on the Arrested Development movie deal?
It's all in the latest weekly installment of exclusive TV dish...
Danny in New Orleans: Any hope for Dan and Serena on Gossip Girl? I cannot stand her new beau, Aaron.
GIOVANNI RUFINO / THE CW; The WB/Ron Jaffe
That makes three of us! Here's hoping Santa gives him an Epilady for Christmas to tackle those three chin hairs, 'cause that would enhance my Gossip Girl viewing experience greatly. Regardless, it looks like Dan and Serena will not be rekindling any flames any time soon because I'm hearing from reliable sources that Dan is getting a new love interest. Laura Breckenridge, whom you may remember as the youngest sister (Rose) from Related, is playing that hot new teacher I told you about a few weeks back, and I'm hearing she'll be sparring with Blair and getting romantic with Dan Humphrey. Gossip Girl writers, you know we love you. XOXO
Wendell in Chino Hills, Calif.: Any word on the Arrested Development movie?
Jason Bateman just told us that production may be starting soon on the film. "I know everyone's sort of focusing on the summer of 2009 to shoot it, so hopefully that will work." And he's not the only cast member eager to reunite. Tony Hale (Buster!) couldn't hide his enthusiasm about getting everyone back together. "Here's hoping that it happens because we'd love to hook up. We'd love it!" Still, I'm still hearing that the one holdout I told you about earlier will not be a part of the movie. And if you guessed Michael Cera, you guessed right.
Lynn in Enfield, Conn.: OMG, what happens to Dexter next week?
Show runner Clyde Phillips gave me an exclusive spoiler-free tease about the final episode of Dexter, season three, saying, "The finale is a thriller, and it's ironic, and the last image is wistful and humorous...and ironic." So, ironic, huh? On a show about a good-guy serial killer? Crazy! Seriously, the psycho-Prado storyline has played out brilliantly, and I think giving Jimmy Smits an Emmy for his work this season is all but mandatory. Who's with me? Post in the comments.
Marianne in Reno, Nev.: Kristin, is Swingtown ever coming back?
Grant Show told me, "CBS has not given an official kill order on Swingtown, and they have not released me yet, so it may come back. There's always a chance for a show that's kind of cultish like that, but if I had to bet on it, I'd say no, unfortunately." Poo.
Ginny in Atlanta: ER! Stat!
Yes, ma'am. Aside from hoping that John Stamos truly is working on a Full House remake (I smell a crossover with 90210 once Uncle Jesse learns where his girl has run off to!), I can tell you that I ran into Shiri Appleby and Scott Grimes at dinner the other night and (a) they could not have been sweeter (Shiri had just seen E! News and playfully asked for a rundown of precisely where I get my scoop) and (b) they certainly appeared to be very cozy—he had his arm around her as they ate dessert at the bar. They'd make a cute couple, no?
Wendy in Boston: Have we seen the last of the 90210 alums, or will anyone else come onboard?
Luke Perry is coming! OK, so not the real Luke Perry (he's still politely declining to appear), but I'm hearing that producers are in the process of casting the next best thing: a "bad-boy Luke Perry-ish type," according to sources. Any suggestions? (Why do I feel a Jason Dohring comment or two coming?)
Sarah in Addison, Texas: What's the deal with Speidi's marriage? Was it real?
As real as the show itself! Lo Bosworth told me, "I think so. I know that they really like each other, so I hope it was real. I hope for the sanctity of marriage it was real." No comment. Lo said of the rest of the season: "The finale is at the end of this month, and we're still filming right up to the very end, and we're figuring out next season right now."
Missy in Detroit: Do you have any Bones info?
Bones! Who cares about Bones? (Kidding.) Seriously, have you seen T.J. Thyne's awesome short film Validation on YouTube? It is awesome, and exactly the kind of thing we need more of these days.
Nancy Kaszerman/ZUMApress.com
Liza in Chicago: Is it true that Drea de Matteo is not coming back to Sons of Anarchy next season?
Not true! Or at the very least, it's all contract voodoo until proven otherwise. Network sources tell me, "We would love to have her back and hope to work out a deal to make that happen." Meaning, even though there's no official contract in place for her to return as Wendy in season two, there's nothing precluding her from being hired on an episode-by-episode basis as a guest star.
Maureen in Summertown, Tenn.: Kristin, I know you love Flight of the Conchords as much as I do. Can you tell me anything about the new season?
The role of No. 1 fan still belongs to that other Kristen [Schaal], but I, No. 2, can tell you that the season-premiere of Flight of the Conchords will be available on FunnyorDie.com beginning Dec. 17 at 9 a.m. PT, a month before it airs on TV. Yay!
Samantha in Del Mar, Calif.: Have you heard anything on the new season of So You Think You Can Dance?
Sources tell me season-three faves Pasha Kovalev and Anya Garnis may be back to choreograph in the new season. Pasha already met up with the crew while they were auditioning in New York, but it all depends on their contracts for Nigel Lythgoe's new reality series on Fox.
Tabiology: No teasing. Are House and Cuddy going to have a baby together?
All I can tell you is that tomorrow night's episode is going make you cry like a baby—and you wouldn't be wrong if you guessed that what happens has to do with House and Cuddy. Sources also spill that there is a top-secret twist in tomorrow night's outing that will have all us fans talking the morning after. (Meet you here?) Last but not least, tomorrow's episode, "Joy to the World," features one of my very fave Twin Peaks alums: Ms. Sherilyn Fenn guests, and her role is a pivotal part of a drama affecting a couple of our fave characters...
Anne in Italy: I've read on a House forum that Cuddy will leave work on episode 12, and she'll ask Cameron to take her place. Is that true? Is Lisa Edelstein leaving the show? Is she having less screen time?
Lisa Edelstein isn't going anywhere. I can't say anything about the future of Lisa Cuddy, but I can tell you that after Tuesday night, this rumor will make a lot more sense...Joy to the world!
Marta Lee in Jackson, Wyo.: Are they really killing off Shannen Doherty from 90210?
According to the cast (via my colleague Marc Malkin), no. However, I am hearing that someone is going to be diagnosed with a disease, and one of our couples is breaking up. Guesses? The comment section is calling you...
Lisa in Atlanta: Kristin, I'm dying without a little 90210! 
It's back Jan. 6. The cast just told me that we are going to be treated to the musical stylings of Dixon (Tristan Wilds) himself. Shenae Grimes (Annie) can't stop raving about her TV bro: "He's a star! You all heard it in The Secret Life of Bees." Sounds like it may be some kind of musical episode? Dustin Milligan (Ethan) teases, "We'll see how much some of us sing, I guess!"
Allie in Ashburn, W.Va.: What's happening on Chuck? I love me some Morgan!
Anyone interested in seeing the little, bearded man in the buff? Good, glad I'm not alone! Joshua Gomez (Morgan) just gave me some scoop on the upcoming Sports Illustrated swimsuit model episode. "There is a scene where I had to be disrobed, and that's a tough act to follow. I mean, they're very pretty, but me naked is a whole other world of pain!" Hot stuff! It also looks like Morgan is going to be dragging his feet when Anna decides she wants to move in together.
Mel in Topeka, Kan.: Anything new on The Office?
That place is the Fort Knox of spoilerdom lately. (Well played, Greg Daniels!) So I can only offer this teensy casting crumb: The Office is looking for a 45- to 65-year-old female character named Rose who is described as "a very plain, boring, corporate female." Looks like Toby has met his match! (That's what Michael said.)
Cybelle in Madison, Wisc.: Thanks for the Ryan Walker video. Got any other Brothers & Sisters news?
The original plan was for Saul's boyfriend, played by John Glover, to come and go in just a couple of episodes, but I'm told that after his initial departure, all is not lost for Andrew and Saul—producers plan to bring him back for a second stint later this season.
Lena in London: I love Prison Break! Can you share anything new about what's to come?
How about a fabulous spoiler tip from our friend Sarah in Long Beach, Calif.? She said, "They were filming outside the Aquarium [of the Pacific in Long Beach] and saw Wentworth and Sarah and was able to watch some of the filming. I found a crew call report later with some details about the episode. It was for episode 418, 'VS.' The episode had Michael, Sara, Lincoln, Mahone, T-Bag, Self and two other people named Christina and Downey. In the first scene it says 'Mahone arrives, not Linc. Michael can't believe Mahone will still work for the Company.' So apparently Michael is still alive and with Sara, and apparently Mahone is working for the Company again!" Thanks, Sarah.
Desi in Palm Springs, Calif.: What's to come on Prison Break? Is this the last season?
No word yet on the future of the series, but I can tell you the past continues to haunt the boys. In an upcoming episode, Lincoln tries to get access to information locked in his mom's safe-deposit box, but the bank isn't playing ball unless Linc gets a court order...
Rachel in Hollywood, Calif.: Have you heard anything about the new season of Damages?
The first minute of the premiere will send shivers down your spine. Ellen (Rose Bryne) holds someone at gunpoint, wanting some answers, but who is at the other end of the barrel? Whoever it is will be dead by the end of the episode, but in true Damages style, the season will be set six months in the past, when Ellen is in therapy, Patty (Glenn Close) is having nightmares and Arthur Frobisher (Ted Danson) is still alive! Plus, Timothy Olyphant sets the stage for the future gun-toting Ellen.
Lou in Atlanta: Anything juicy on my Winchester boys?
I think Sam Winchester and the grim reaper are going to sit down for a friendly game of chess on Supernatural. (If anyone can beat Death, it's our Sammy.) Look for a Death match—or something like it—in an upcoming episode called "Death Takes a Holiday."
Marina in San Francisco: Can you spill anything on Terminator for me? It's my fave show of all time.
Why does Terminator need to cast a pair of twentysomething female twins to play a U.S. Navy sailor? Could identical models of Terminators have infiltrated the Navy?
Kitty in Las Vegas: Can you spill any secrets on Privileged, aka the most adorable show since Gilmore Girls?
I've got big news. Actually, I've got big, bad news: Megan might be leaving the Baker girls! I'm told that in the finale few episodes of the season, Megan will fulfill her dreams and get a job at a magazine. Can she possibly write for a major periodical, romance the witty and cute editor-in-chief and tutor the terrible two? Aaack! (P.S. Just in case you missed it on Friday, our girl Korbi broke the news that Fall Out Boy's Pete Wentz guests in episode 14 of Privileged.)
Charlotte in the Berkshires, Mass.: Kristin, you haven't had much Criminal Minds scoop—what can you spill?
Good news for you Hotch (Thomas Gibson) fans: Episode 18 focuses on a resurgent serial killer known as the Watchman. Hotch covered the original case back when he was just a young'un, and we'll get some insight into how he grew into the awesome yet emotionally unavailable man he is today.
Kyle in Irvine, Calif.: Any new scoop on the big plane crash on Heroes?
I caught up with Brea Grant at the Avakian Beverly Hills Boutique, and she dished that she's not on the plane, but she said, "I'm looking for them while that's happening...at the beginning [of Fugitives], a bunch of stuff happens, and I'm trying to find my true love (aka Matt Parkman)."  Big things happening, eh? "I've been kidnapped and there are people who have been chasing all of us, and they've been hired by the government." Will Matt come to save you? "I haven't been rescued yet!" Yikes.
Lee in Temecula, Calif.: When does Medium return? It wasn't on your winter premieres calendar!
The premiere date for Medium is Mon., Feb. 2. (That date was released the day after we posted the original winter premieres item, but hang in there—we'll post another rundown soon.) As for Medium's upcoming season, will someone please page Jessalyn Gilsig? Medium is now casting for Joe's (Jake Weber) sister, Mara, who is described as a divalicious 35-year-old who behaves more like a 25-year-old. Mara comes to stay with her brother Joe after her husband cheats on her, and while she's in the house, she begins inducting the girls into the worlds of veganism and cheeseball reality TV.
Jackson in Chicago: How about some more scoop on who is pregnant on One Tree Hill?
Nothing new to report there, but I can tell you that casting for the movie is underway and that's going to bring plenty of Brooke, Peyton, Nathan and Haley clones to OTH for what I'm hearing will be a highlarious episode!
Jackie in Pasadena, Calif.: Any scoop on CSI: NY besides Danny and Lindsay?
Do you love parties where balloons fall from the ceiling? What if a dead body dropped as well? Yeah, not so cool. When the whole gang hits a gala, Hill Harper told me, "The assistant mayor of New York gets killed at his own ball." Bummer. And in major CSI: NY news unrelated to death by balloon, Harper spilled, "My ex-girlfriend comes back, and we catch her rapist from years ago."
Andy in Austin, Texas: Have you seen the Scrubs season premiere yet?
I just finished watching, and I can say it's one of the funniest premieres I've seen in a very long time. First, Elliot (Sarah Chalke) is in a porno called "Drunk Blondes #1," then Dr. Maddox (Courteney Cox) fires the Janitor (Zanzibar Buck-Buck McFate) and J.D. asks Maddox a lot of questions about her va-jay-jay. Hmmm, nice start to a good season.
—Additional reporting by Jennifer Godwin, Natalie Abrams and Megan Masters