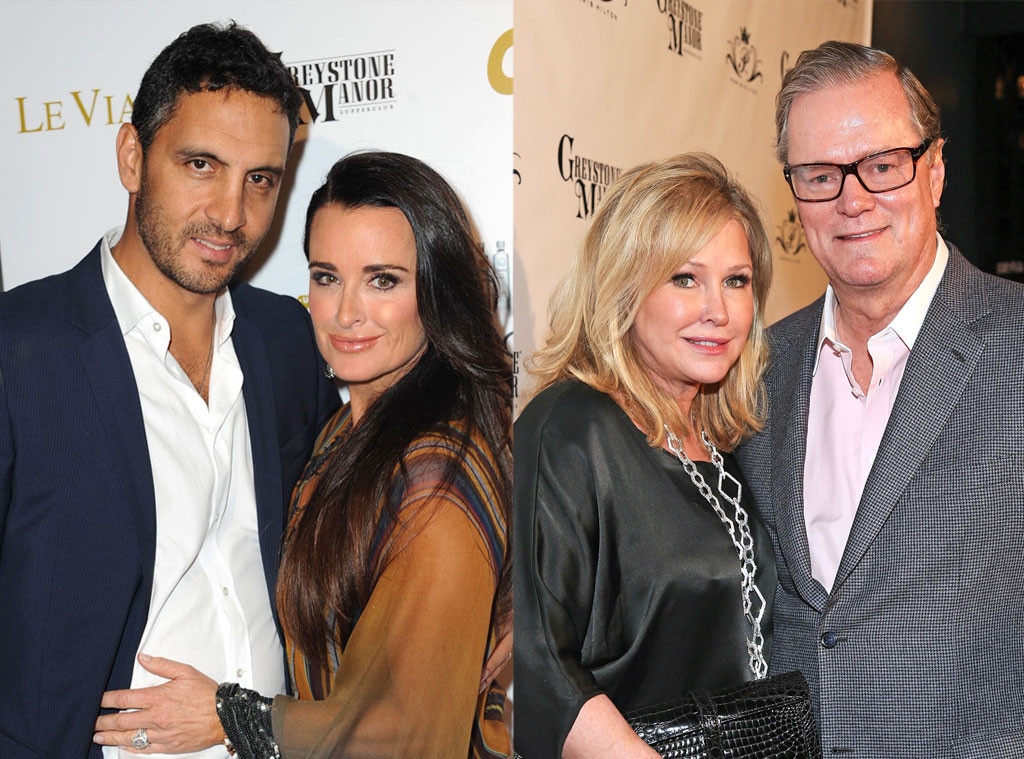 Getty Images
And here we thought the only big drama in Kyle Richards' life was with sister Kim Richards. SPOILER ALERT: It's not.
Last night, The Real Housewives of Beverly Hills fans got a taste of some tension that has been brewing between Kyle and her older sister Kathy Hilton, after the reality star revealed that she wasn't invited to Nicky Hilton's lavish wedding over the summer—however, we later found out that Kyle was invited, but her husband Mauricio Umansky wasn't.
So what gives? Apparently, there has been issues between Umansky and Hilton's husband, Rick Hilton, for some time, and that has caused a serious drift between the two families.
"Rick and his team wouldn't make Mauricio a partner, even after years of working there and a lot of success. So he left," one source tells E! News. "Now, Mauricio is not welcome at any Hilton events. It puts Kyle in a terrible position because she always has to choose between her husband and her older sister."
Another source tells E! News, "There are problems between Kyle and Mauricio and Kathy and Rick, and that is because Mauricio went behind Rick's back when he started his business."
The insider continues, "Rick did everything for Mauricio to get him started, he gave him clients, he introduced him to people. And then when Mauricio set up his own company, he did it covertly and informed Rick via email. Mauricio was not made a partner as he was not being 100 percent above board and so there were trust issues.
 
"Finally, once Mauricio's new company was set up, Rick and Mauricio came to a gentleman's agreement that they would not go after each others' agents, but then Mauricio went back on that promise and tried to poach staff. It's a huge mess."
However, there were also troubles because of Kyle's new TV pilot revolving around her life. "Kyle was initially uninvited to Nicky's wedding because of Kathy. There was a lot of tension over the TV pilot Kyle has in development that's based on her life growing up with her sisters," the insider tells us.
"Kathy even sent her a legal notice about it without any warning. Kathy did not want to come off negatively. So that's why, for a period of time, Kyle was not going to Nicky's wedding. She was disinvited at the end of June, just weeks before the wedding. Nicky and Kyle are close, but Nicky deferred to her mom." 
As for how all of this is affecting Kyle and Kathy, the initial source tells E! News, "Relations between Kyle and Kathy are still quite strained. I don't see it getting any better soon," however there is an opportunity to see whether things are getting better in the very near future.
 
"Kathy is having her annual Christmas party this Saturday. It will interesting to see if Kyle attends or not. She hasn't always gone the past few years. Lisa Vanderpump and Ken used to go, but they don't any more out of loyalty to Kyle."