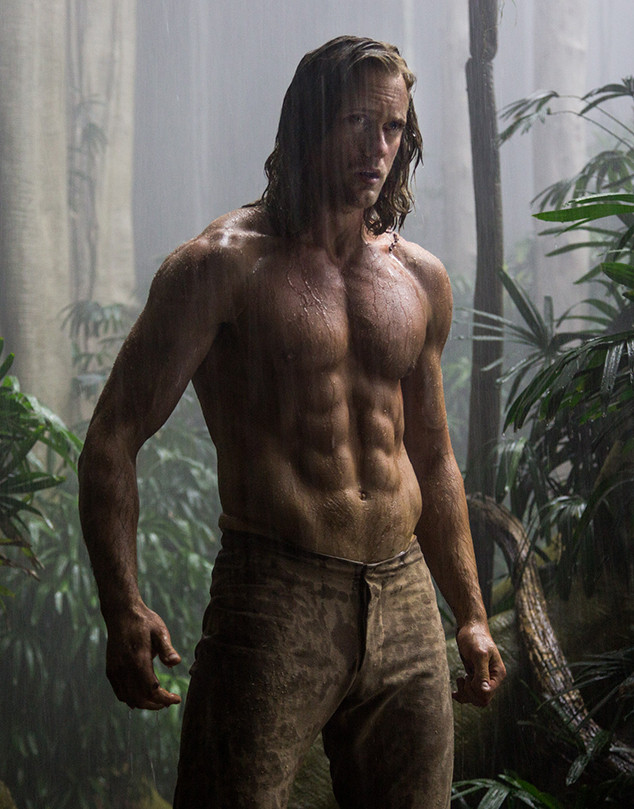 Jonathan Olley
There's no doubt about it: Alexander Skarsgård is the King of the Jungle.
Wearing khaki shorts in lieu of a loincloth, the 39-year-old actor's eight-pack abs are on full display in the first two stills from Warner Bros.' movie The Legend of Tarzan, in theaters July 6. The shirtless Swede poses solo in one picture and with his co-star Margot Robbie, who plays Jane Porter, in the other picture. For some reason, she has her back to Skarsgård. She must be either unaware he's there or too nervous to look him in the eye, because those abs are insane. Turn around!
Director David Yates was impressed by the actor's 6-foot-4 frame. "Tarzan needs muscles, but it's more of a leaner, longer, more vertical modern man than the square-jawed stereotype we're used to," he tells USA Today. To get in shape for the role, Skarsgård spent four months training before filming started. "I basically didn't see my family or my friends," he tells the newspaper, noting that playing Tarzan "was definitely worth getting up at 4:30 in the morning."
Skarsgård and choreographer Wayne McGregor also developed Tarzan's movements together. "He works mostly with the best contemporary ballet dancers in the world," the actor explains, "so it was quite unusual for him to work with somebody like me who can't touch their toes."