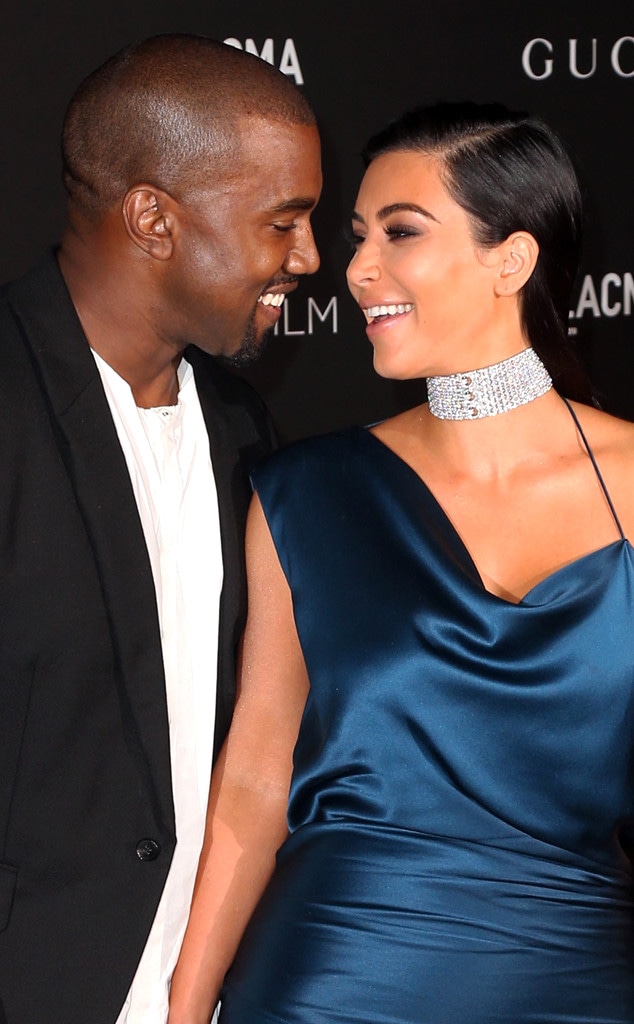 Frederick M. Brown/Getty Images
After two long and agonizing days (OK, maybe we're being a little dramatic), we've finally learned what name Kim Kardashian and Kanye West for their newborn baby boy.
The famous pair revealed earlier today that their son's godly moniker, one they just came up with, is Saint West. And while some may find their chosen name for their second child more than fitting (after all, it is the son of Yeezus), others might think Saint is a bit out there.
But guess what? Kimye aren't the first, or probably last, celeb couple to choose Saint as the name of their baby. In fact, there are a handful of stars who were also a fan. Fall Out Boy's Pete Wentz and Meagan Camper welcomed their first child together, second for the rocker, in August 2014 and named their boy Saint Lazslo Wentz.
Around the same time, rocker Dave Grohl welcomed his third child, a daughter (yes Saint is unisex), and incorporated it into her name by deciding to call his baby girl, Ophelia Saint Grohl.
A few years prior, Selma Blair, who happens to be portraying Kris Jenner in the upcoming TV series American Crime Story, had a similar idea when it came to her son, and named him Arthur Saint Bleick. She also took to Twitter today to give a sweet shout-out to Saint West:
"Saint makes a lot of sense for a son of the artist whose 2013 album was titled Yeezus and contained a song called "I am a God,'" Nameberry tells E! News in a statement.
"In the past, Saint has rarely been used on their own, but it not that uncommon to be used in combination with another name, as in St. John (pronounced Sinjin).  Just last month, politician Thomas Ravenel and Kathryn Dennis christened their son St. Julien. Saint could be included in the newly trending category of virtue/aspirational names for boys, such as Noble and Justice."
Over the summer, reports surfaced that Kimye was planning to name their son Easton. A source quickly shot down that rumor to E! News. There was also a bit of speculation that South West was a possibility. If you asked Kim, however, that wasn't really an option.
"I don't like South West, though, because that's like, you know, North will always, you know, be better and be more…she has a better direction," she told NPR. "So I wouldn't do that. I don't think we'll go with another direction."
All names are pointing up.