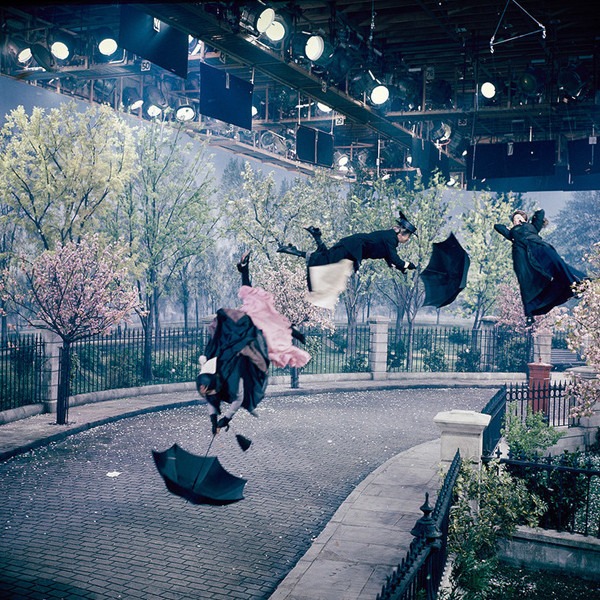 disneyphotoarchives.com
Got a Disney fan in your life? Don't know what to give them for the holiday season? How about a vintage, behind-the-scenes photo from the filming of Mary Poppins (above)? Have we blown your mind yet?! Wait, it gets better.
Disney announced this past weekend that they are releasing beautifully restored photos from the early days of Disney films and Disney parks. If you are a Disney super fan or you know one, then you almost definitely need a photo of Walt Disney looking up adoringly at the birds in the iconic Tiki Room in 1963. It's magical.
"We are so excited by this opportunity to share our wonderful collection of images in a brand-new way," Rebecca Cline, Walt Disney Archives director said in a statement. "We have selected some of our very favorite Disney images to share, and we hope that our fans will enjoy having these lovely photographic prints in their own homes—to treasure for years to come!"
For the first time since The Walt Disney Archives was established in 1970, you can have your own collection of vintage photos featuring scenes like opening day festivities at Disney Land's Sleeping Beauty Castle and a bird's eye view of the Mad Tea Party in 1955.
According to the website there are over four million(!) behind-the-scenes photos from more than 90 years of Disney magic in the archive, so we're looking forward to many, many years of these pictures letting us peek behind the curtain of Walt's imagination.
There are now 25 photos to choose from, but Disney revealed that more would be added for purchase throughout 2016. Personally, we've got our eye on the photo of the Matterhorn and the Monorail from 1963. That definitely belongs on our wall.
Boom. We just did your holiday shopping for you. You're welcome, everyone!
Watch:
Chloe Grace Moretz Is Excited for "Little Mermaid"