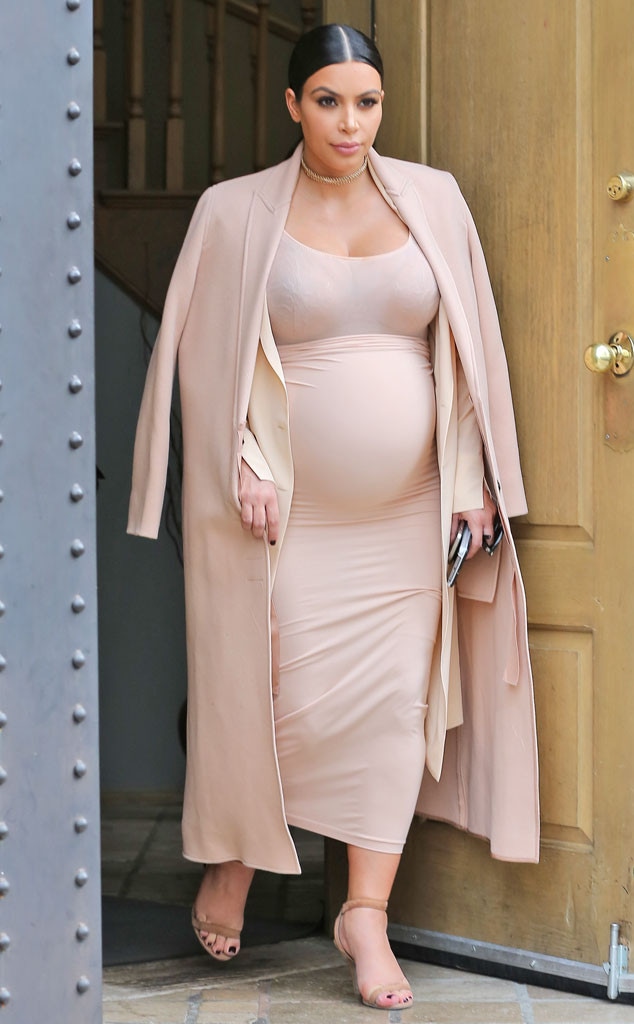 AKM-GSI
Kim Kardashian's second pregnancy was far from easy.
The 35-year-old Keeping Up With the Kardashians star gave birth to her and husband Kanye West's second child and first son on Saturday in a hospital in Los Angeles. He joins big sister North West, 2.
Kim had been candid about her pregnancy all throughout it. While she and her family were of course delighted about their upcoming arrival, especially since they had battled fertility issues, the reality star had suffered several health scares while pregnant and put on a lot of weight—more than typically recommended for expecting women. Needless to say, it did not sound very fun.
Check out five times Kim got real about her pregnancy.
1. "Such anxiety"
"Every medical issue that you could probably have, I feel like I get, and I worry so much about it," Kim told E! News. "This pregnancy I have a little bit more anxiety just because I know what's to come and it's really inevitable some of the issues that I'm going to have. You know, I have a high-risk delivery and all of that gives me such anxiety."
2. "How is that possible?!?!"
On Friday, hours before she gave birth to her son, Kim revealed she has gained 60 pounds throughout her pregnancy. According to the U.S. National Library of Medicine, pregnant women carrying one child should gain no more than 40 pounds. 
"A few weeks to go and 60 pounds up! I look at other celebrities and Instagram girls who are literally so skinny right after giving birth," she wrote. "How is that possible?!?! F--k, I hope people don't expect that from me, LOL!"
In a social media post published two days before she gave birth, Kim said she feels "fat as f--k" and that her "cankles are out of control." 
3. "A wake-up call"
On an episode of Keeping Up With the Kardashians, Kim tells her family that she learned at a recent doctor's appointment that she could have developed diabetes, or high blood sugar.
"I think is just awake-up call that, you know, things just might not be going the way that I thought they were and then I just need to try to be healthy," she said.
Pregnant women who develop diabetes could end up having a C-section delivery or a preterm birth. Kim's son was born several weeks early. 
Watch:
Kim Kardashian Reveals Gestational Diabetes Risk
4. "More painful than childbirth"
Just before giving birth, Kim underwent a procedure she says was more painful than....giving birth. She revealed about two weeks before her son was born that he was breech, which carried some health risks. Doctors then worked to turn the baby.
"They don't give you any pain medication, and let me tell you: This was soooooo painful," she said. "Probably more painful than childbirth. BUT it worked!!!"
5. ...but it was all worth it in the end
"I just don't think pregnancy and me really agree with each other," Kim told E! News.
"You know, it was really hard for me to get pregnant so I do feel really blessed that I am pregnant," she continued. "And, at the end of the day, it is a million times worth it."
Watch Keeping Up With the Kardashians on Sundays at 9/8c., only on E!