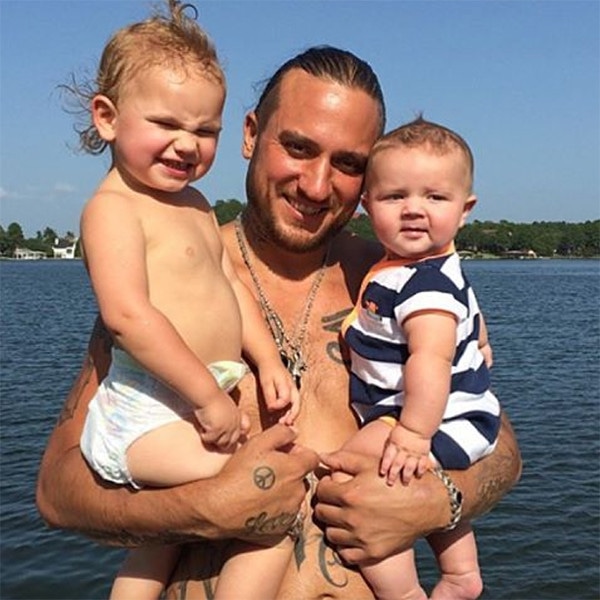 Instagram
Tiffany Thornton still can't believe Chris Carney is gone.
Twenty-four hours after the former Disney Channel star's spouse died in a tragic car accident in Arkansas, Tiffany shared on Saturday a picture of her late husband holding their two sons, Kenneth James "KJ" Carney, 3, and Bentley Cash Carney, 21 months.
"My life. My love. My angel," she wrote in the Instagram photo caption.
Hundreds of her fans commented on the picture within minutes, encouraging the So Random! star to "stay strong" and letting her know she is in their prayers. The post marks the first time Tiffany, 29, has publicly commented on her husband's untimely death.
Chris, a former member of rock band The Prom Kings, married Tiffany in 2011.
Tiffany's husband and his friend, Ezekiel Blanton, were both killed in a single car accident Friday at approximately 1:40 a.m. Per The Arkansas Times, which first reported the news, the vehicle reportedly slammed into a tree going around a bend. Ezekial, 37, is listed as the driver of the car; Chris, 35, was his only passenger.
Later on Saturday, Tiffany posted a photo from her and Chris' wedding.
"There are so many things I want you to know about Chris but most importantly you must know how earnestly he pursued the Lord, especially in the past year," she wrote. "No one is perfect in this world and we all have our battles but it's the way we get back on our feet and turn it around that really counts. And he did it. He was so on fire for God and I know he flew straight into the arms of Jesus, his best friend."
"He was THE BEST father my children could ever have, an incredibly loving and sensitive husband, a wonderful brother and amazing son," she wrote. "He is already so dearly missed but I promise to spend the rest of my life sharing his testimony so that those who feel they have no place or have come from a place of struggle can learn that the love of the Lord can save us all."
Demi Lovato, who co-starred with Tiffany on Disney Channel's Sonny With a Chance for two years, offered her condolences via Instagram Friday night.
Sharing a picture from the couple's wedding (in which she served as a bridesmaid), Demi wrote, "Been trying to figure out what to say all day... This morning I woke up to terrible news. My good friend Chris Carney has passed away. This picture is a perfect example of the love he shared with Tiff and how much fun he was to be around. I've been to many weddings but this is by far the most memorable because the way they looked into each other's eyes and the love they had for one another. There were tons of laughs and tons of tears and I'll never forget the way he looked at her."
She said a memorial service would take place in Arkansas on Monday.
"It doesn't seem real and I'm still in shock.. Still speechless. I don't know how to put into words how heartbroken I am for Tiffany and their two baby boys," Demi added. "You're already missed Chris.. And Tiffany I love you so much.. I'm so unbelievably sorry... There are still no words." The pop star also shared a link to a GoFundMe page to help alleviate living expenses for Tiffany and her two sons.
Similarly, actress Cassie Scerbo, who along with Demi's boyfriend Wilmer Valderrama is a godparent to KJ, expressed her grief in an Instagram post Friday. "I've re-written this a million times, as I just don't know where to begin. This morning we lost an incredible soul, someone I looked at as a big brother, who along with my beautiful friend @tiffthornton gave me the priveledge of being a Godmother to my precious KJ. @chrisgcarney, WE LOVE YOU," Scerbo wrote. "Your one-of-a-kind personality and heart will be greatly missed.. RIP, fam."