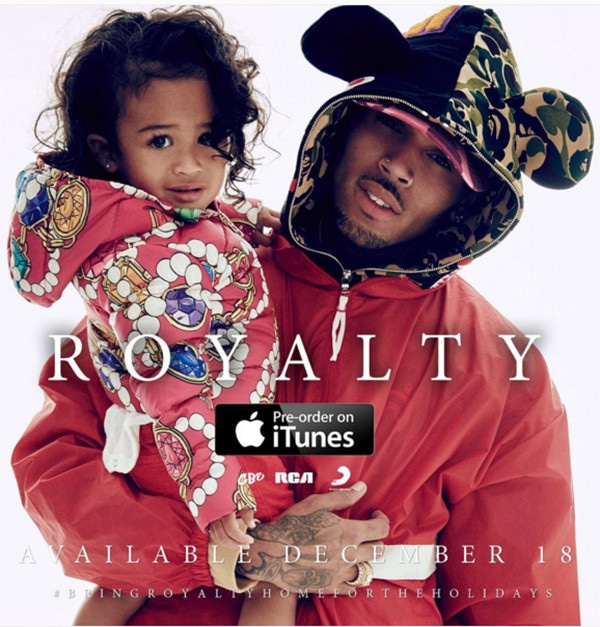 RCA/Instagram
Chris Brown, father of 1-year-old daughter Royalty, says being a dad is "humbling" and that the child has been "mellowing him out."
The 26-year-old R&B star, who has had a turbulent last few years due to a slew of legal incidents, including a 2009 assault on Rihanna, made his comments on Ryan Seacrest's radio show On-Air With Ryan Seacrest on Friday.
Brown has joint custody of Royalty, his first child, whose mother is his ex-girlfriend, Nia Guzman. The singer told Seacrest he gets to spend time with the child two weeks every month.
"So I have a co-parenting job that's pretty amazing but, you know, learning how to be a dad, especially learning how to take care of somebody else, you know, I barely know how to brush my teeth in the morning!" he joked. "It's actually great. It's very humbling. You know, it's very calming. I think I was a lot, you know, rambunctious, very hyper as a kid but now seeing that 10 times over, my daughter's kinda like mellowing me out."
Guzman gave birth to Royalty in the summer of 2014. Another one of his exes, Karrueche Tran, hinted in March 2015 the singer had become a dad. Later that month, a judge ended Brown's probation over his 2009 assault of then-girlfriend Rihanna after ruling he had completed his requirements. Brown had pleaded guilty in the case and had accepted a plea deal under which he would receive probation, community service and domestic violence counseling.
He has also faced more legal and personal turmoil in recent years. In 2014, he spent two days in jail for a 2013 assault case involving another man in Washington, D.C. and more than two months behind bars for violating his probation. Also in 2013, he voluntarily underwent rehab for anger management and was also given 90 court-mandated days of treatment.
"I think with me, the main thing is probably patience," Brown told Seacrest. "With me, I always want stuff done right now—'Let's get it done, let's get it done!' but, you know, being able to be a father and, you know, seeing my daughter, you know, from those gradual stages, from crawling to walking to saying words now, you know, learning different things every day is kinda just teaching me patience."
Brown also said his mother, who has worked in childcare throughout his life, has been helping out.
"[Royalty] loves "Ring Around the Rosie," so she loves just to sing it and do the circle," he told Seacrest. "When me and my mom 'fall down,' she just watches us fall down. She doesn't fall down with us."
"That's the best part of being a dad," Brown said. "You know, doing those little things. Bedtime is crazy for me 'cause I always was like...trying to avoid bedtime when I was a kid, like, 'No, Mom, just 15 more minutes, please!' So I'll keep like the kids' channel on and turn it all the way low and turn all the lights out, and you know, I'll lay in the bed with her and like rub her back until she actually falls asleep. But some nights, she's not having it. Like, she just is totally energetic—'Aaaaaaah!!!'"
For Brown, one of the hard parts about being a dad is balancing fatherhood and his work. The singer, who often travels on tour, said he doesn't like to fly with his daughter because she tends to get ear infections. He said he tried to get as much one-on-one time with Royalty as possible.
Speaking of work, the R&B singer appears with his daughter on the cover of his new album, also called Royalty, and in photos promoting it. The record is set for release on Dec. 18.