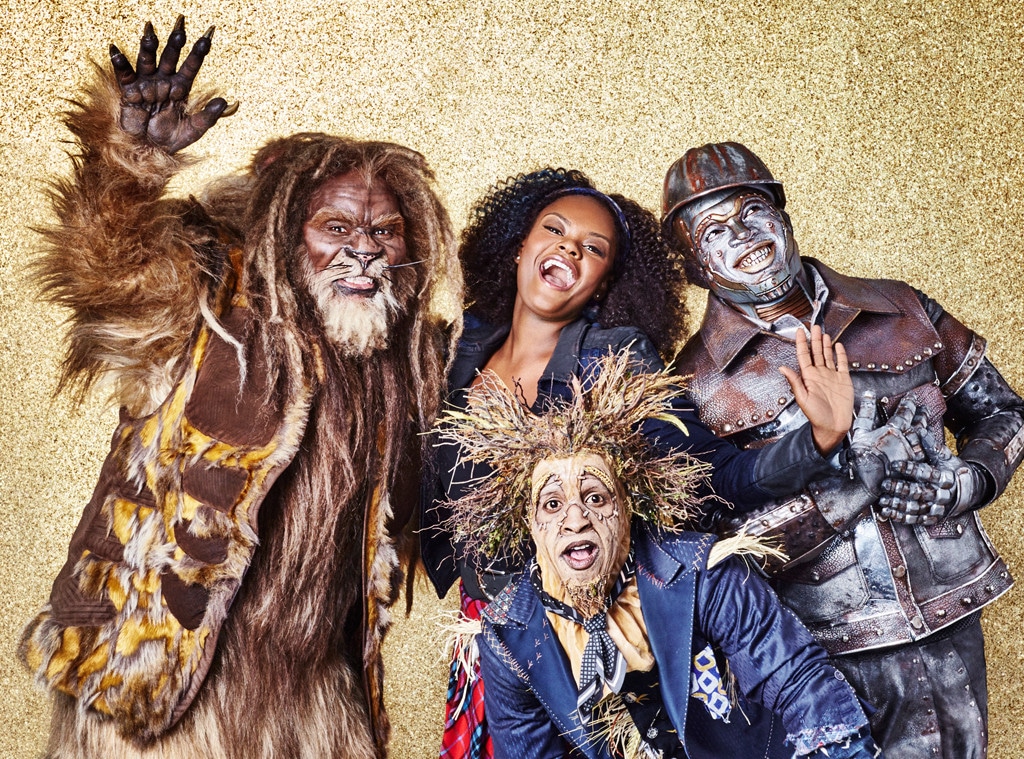 NBC
Welcome, boys and girls, to our official The Wiz Live Liveblog! 
Here at The Wiz Live Liveblog, it's live, just like The Wiz Live is. We'll be bringing you up to the (five or ten) minute updates on whether Uzo Aduba is fabulous or extra fabulous, what Shanice Williams' next big role should be, and what we thought of Mary J. Blige's performance as the wicked witch (spoiler alert: we thought it was great, probably). 
Or at least that's our hope. It is live, of course, so anything could happen, but there's about to be enough talent on that stage to put on a truly fantastic show, including stars Aduba, Williams, Blige, Amber Riley, Common, Ne-Yo, David Alan Grier, Elijah Kelley, Queen Latifah, and even the original Dorothy, Stephanie Mills. 
Plus, the talent behind the scenes is equally promising thanks to Neil Meron, Craig Zadan, Kenny Leon, and Harvey Fierstein. 
We'll be right back here at 8 p.m. sharp to start easing on down that road, so be sure to join us as you settle down to catch the fun for yourself. Plus, don't forget to follow us on Twitter at @eonlinetv! 
8:02 p.m. 
Live animal on a live show alert! You go, Toto. You can do this! 
8:05 p.m.
First song time! Luckily, it's Wiz pro Stephanie Mills singing to her former character. We got distracted by the dog and the set that appears to just be a screen so we have no idea what's going on or why she's leaving with a suitcase...
8:09 p.m.
Tornado dancers! 
8:11 p.m.
Where do we get dresses like the ones the munchkins are wearing? WE WANT TO TWIRL! 
8:13 p.m.
A+ cry-to-laugh, Amber Riley! (Like honestly, can we be a munchkin just for a day? They look like they're dressed in their Capitol best in order to meet the next winner of the Hunger Games.) 
8:14 p.m. 
LOVING Amber's use of an iPad. This is a truly modern performance. 
8:17 p.m.
Why have we not always been bowing down to Amber Riley? Sure, we knew she could sing pre-recorded for Glee, but this is some next level incredibleness. So far, so good, guys. (Or at least so far, so not terrible for the first 20 minutes of the show)
8:22 p.m.
SHOE TIME! This was our favorite part of all Wizard of Oz stories as a child. We owned several pairs of sparkly shoes and they got glitter everywhere but damn if they didn't look fabulous.
8:27 p.m. 
Honestly, Shanice has got more balls than most people we know for taking on the lead of a major musical on live TV alongside a bunch of some of the greatest performers in Hollywood. So we give her all the props for everything about this. We are just saying this now in case things get cringey later. 
8:39 p.m.
Sorry can't stop rewinding the Scarecrow's dance break because ohhh my god Elijah Kelley. 
8:40 p.m.
YESSS IT'S TIME TO EASE ON DOWN THE ROAD! Warning to our coworkers and/or roommates: We will be singing this for the next 3 weeks. (We're singing it now.) 
Scarecrow is legitimately mesmerizing. We love him. 
8:48 p.m.
Tin Man's dance break is not as cool. It's fine. Cool costume though! 
8:50something p.m.
We are just straight up having a great time rn. Rawr! 
9:04 p.m.
The monkeys have arrived! Fun fact about us: We hated the monkeys in The Wizard of Oz so much as a child that we completely repressed them from our memory. We only rediscovered them in the past few years, and we still haven't recovered. We never will. Flying monkeys are the worst. 
9:07 p.m.
The feels are a bit out of control in here. Never underestimate the relationship between a girl and her cat. 
9:10 p.m.
Things are getting weird, but we are very much digging this "lion has orgy with flowers BUT IT'S A TRICK" music. 
9:19 p.m.
They've finally arrived at the Capitol for a voguing party and we've never been so upset at not getting invited to something.
This reminds us of our favorite part of Magic Mike XXL that was not Joe Manganiello dancing in a convenience store. 
9:27 p.m.
Queen Latifah is here, and she is...cha cha-ing? 
We fear she might be the Christopher Walken of this show, but like not even close to Christopher Walken's level of Christopher Walkening. She's not bad, necessarily, but perhaps her very heavy costume is causing her problems? 
9:40 p.m.
QUESTION: Where is Toto? What was the point of him ever being there if he was just going to disappear for the whole show? We need a puppy to look at, people! 
9:42 p.m.
"Y'all were supposed to be my squad!" Is that a line from the original or is The Wiz's 2015 leaking?
(Squad goals, though) 
9:52 p.m. 
Mary J. Blige has arrived! 
9:55 p.m. 
Is it possible that every song is even better than the last song? Or is Mary J. Blige just impossibly amazing?
9:57 p.m.
WHAT ARE THESE TERRIFYING THINGS?
10:05 p.m.
Here lies Evillene, whose outfit was the fiercest and whose evil steampunk lair was the coolest, and whose untimely death was celebrated with joyous if questionable dancing: 
10:13 p.m.
Here lies us, who have yet to see Uzo Aduba make her grand entrance, and are unreasonably upset about it. 
10:15 p.m.
Queen Latifah is way better as Queen Latifah pretending to be the Wiz. 
10:25 p.m. 
Starting a chant: UZO! UZO! UZO! 
10:30ish p.m.
Queen Latifah looks so freeee of that giant (amazing) costume! (Still totes jelly of the background dancers. We're also growing loopy and we apologize for the use of the phrase "totes jelly")
Amber Riley had better get a lot more roles after this. She's hilarious. 
SHE'S HERE. Uzo Aduba has literally descended from the ceiling, and it is truly a sight to behold. 
She wants us to believe in ourselves. 
WE DO, UZO, WE DO. 
10:35 p.m.
Shanice Williams is singing "Home" and everything is perfectly fine no tears here at all. 
10:39 p.m.
Good news! Toto's fine, and Dorothy is safely back at home with Stephanie Mills, and the show is officially over. 
While we might be a tiny bit overwhelmed by three hours of that glorious colorful insanity, our initial assessment of The Wiz Live is that it was miles ahead of any other live musicals of recent years. We were a bit bored when there was no singing, and we lost a little steam there towards the end until Uzo showed up, but we came here to have a great, non-cringey time and that is exactly what we had.
Shanice Williams is a star, Elijah Kelley needs to be famous, Ne-Yo has a surprising emotional range, Amber Riley is superb, Mary J. Blige is heavenly, Uzo Aduba is the incomparable fairy grandmother we always wanted, and we are tired. So tired. It is time for us to ease on down to bed, and for you to ease on down to the comments to share your own thoughts on the performance. 
Good night all!