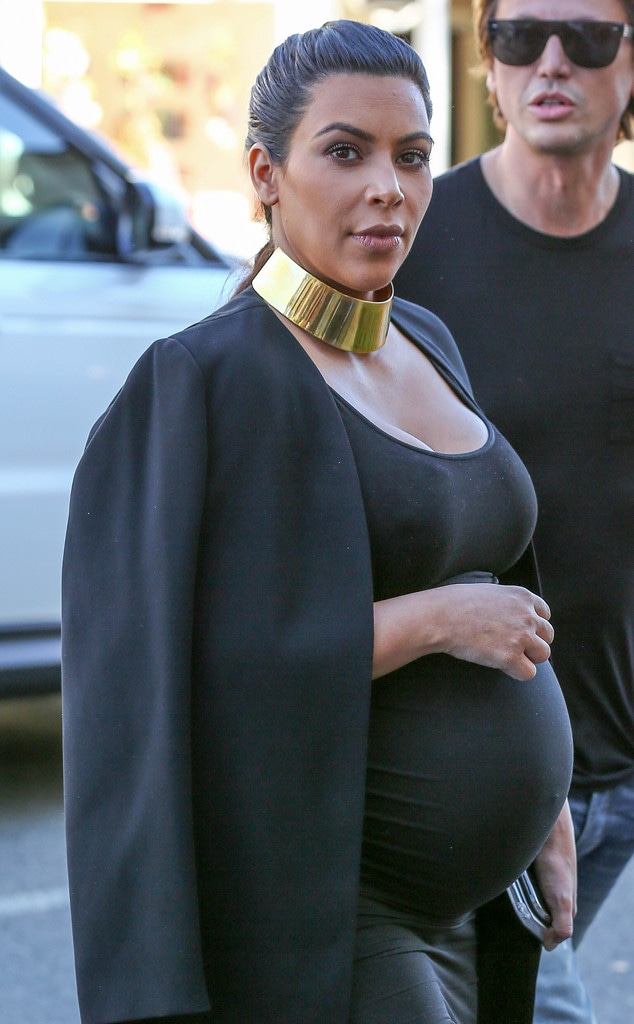 AKM-GSI
Kim Kardashian is feeling "fat as f--k" as she prepares to give birth to her and Kanye West's second child this month.
The 35-year-old Keeping Up With the Kardashians star is in her ninth month of pregnancy. She and West, 38, are expecting a baby boy, who will join big sister North West, 2. Kim recently gave an update about her pregnancy 
She said she feels "fat as f--k" and that her "cankles are out of control."
Kim has complained about her pregnancy and weight gain before. She revealed to E! News in November how many pounds she has gained and joked, "I just don't think pregnancy and me really agree with each other. 
She also said her baby is currently the size of a pumpkin.
And speaking of food, she's recently been craving Lay's barbecue-flavored potato chips. On Thursday, she opted for sugar; she and a friend prepared Rice Krispie Treats...in the shape of penises. They made a particularly large one and showed it to Kim's mother Kris Jenner, 60.
During the molding process, Kim sneaked in bites of unshaped Rice Krispie Treat mix...and of sugar cookies.
Kim said that she ate beignets the day before and planned to later eat a healthy meal, chicken with rice. She said she has not been that hungry in her final days of pregnancy, adding that in about six to seven weeks, she will be able to start eating healthier again.
On Thursday, she also grumbled about how she still lives with her mother, Kris Jenner, 60. Kim and her family lived with her for more than a year after buying a $20 million house and an adjacent, estimated $2.9 million house. They then began to renovate the properties and moved out, but returned to stay at her home earlier this year as construction continued longer than planned.
Kris said on The Kyle & Jackie O radio show in Australia on Thursday that the couple's contractor told her Kim and Kanye would continue to live with her until March 2016.
"I can't believe I am still living with my mom," Kim said. "I'm having my second baby and still live with my mom. Kanye and I laugh and cry about it all the time."
The reality star and Kanye have not revealed what they plan on naming their baby boy. Kim said on Thursday she dislikes all the names she has heard so far.
"We need to think of a good name," she said. "This is so hard!"
Watch Keeping Up With the Kardashians on Sundays at 9/8c., only on E!