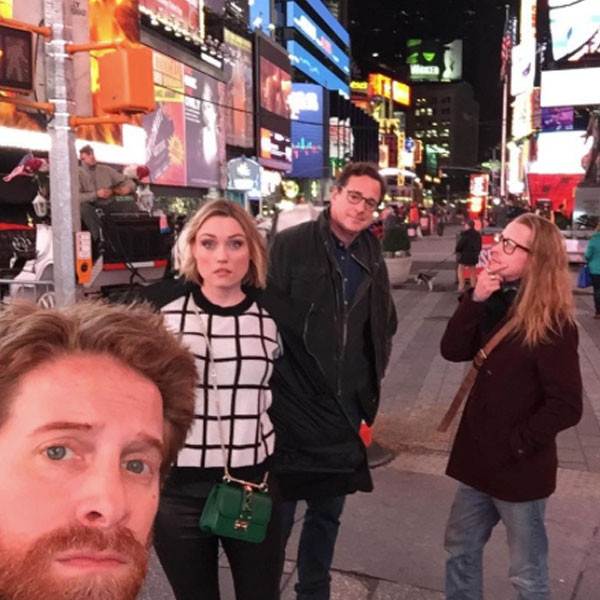 Instagram
Well, this is an unexpected pairing. 
Fresh off another stage performance of the puppet-based Broadway hit Hand to God, Bob Saget visited New York City's Time Square for a late-night photoshoot along with his  Hollywood pals Seth Green, his wife Clare Grant, and one unmissable child star—Macaulay Culkin. 
The foursome posed for a silly selfie with the glare of neon billboards in the distance behind them. 
"Fun times last night after show in the #TimesSquare with friends @ClareGrant, Macaulay Culkin, and the master of the selfie, my pal @SethGreen," the Fuller House star captioned the shot on his Instagram account. 
Who would have ever thought Saget, 59, and Culkin, 35, hug out in their spare time? One suspected link between to the two actors is their fellow Hollywood star Green. He and Culkin both starred in the stop-motion animated television series, Robot Chicken, which Green also co-created. 
Prior to their Big Apple rendezvous, the group joined together backstage at the Booth Theater to engage in a slew of other posed group shots. A fashion side note—we're seriously digging Macaulay's leather man purse.
Pal Green had nothing but cheerful compliments for his friend's latest professional venture as he casually bonded with the show's puppet. 
"Saw my buddy @bobsaget in the outrageous @handtogodbway last night- excellent cast, provocative show- really worth checking out. @SteveBoyer5000 blew my mind a little bit," he wrote on Instagram. 
In addition to the Home Alone star's unsuspected appearance, Saget also welcomed another surprise acquaintance—the Real Housewives of New York's Carole Radziwill. 
"We all enjoyed having @CaroleRadziwill of Real Housewives of New York and @AdamKenworthy," he wrote of a similar shot of himself posed with the reality star and chef. 
Alas, here is the magic of Broadway at play—bringing all kinds of people together for one truly entertaining Instagram experience. 
Watch:
Bob Saget & Jodie Sweetin React to Lifetime's "Full House"